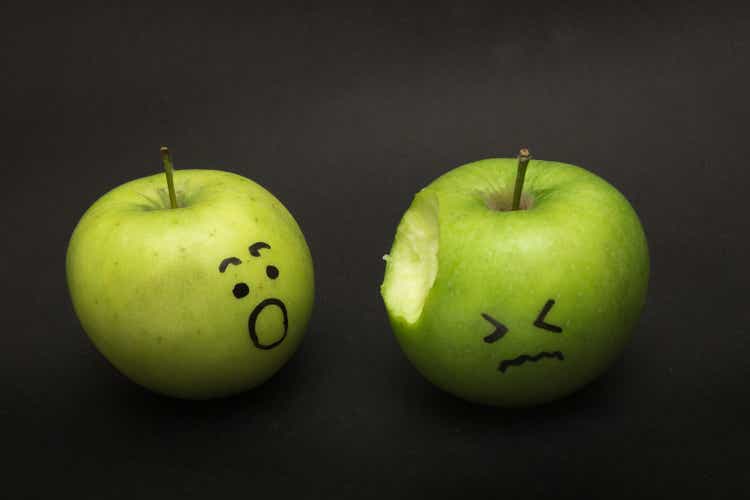 Main thesis
This Thursday, August 3, Apple Inc. (NASDAQ:AAPL) is going to present its results for the past 3rd fiscal quarter (April-June) post-market. The company will publish a report and hold a conference call after the end of the main trading session.
Analysts expect EPS of $1.19 (-1% YoY) and revenue of $81.82 billion (-1.5% YoY).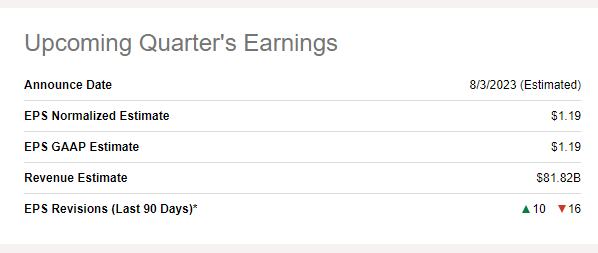 FQ3 has historically been the smallest for Apple in terms of volume, but this report plays a relatively big role for the corporation in the context of shares' 56% run this year.
I believe that Apple has every chance to slightly beat the estimates. However, this doesn't mean that the report will be positively received by the market. iPhone and Services revenues, as well as the potential management comments on Q4 and FY2024, would decide it all, in my opinion.
Products: iPhone can beat it all
Smartphone sales in the 2nd quarter of 2023, according to IDC, continued to decline, but Apple felt this effect less than other major manufacturers. iPhone shipments in units fell 6.3% YoY, but market share increased modestly from 15.8% to 16%. A similar situation was in Q4 2022 (FQ1 2023) when the overall shipments fell 14.9% but iPhone sales decreased only 8.2%. Thus, Apple managed to offset a 6.7% drop.
So, due to a larger expected share of the iPhone 14 Pro in the smartphone category than the iPhone 13 Pro, given the much more significant differences from the base version, I think this could allow Apple to show YoY iPhone sales growth. That's more than possible as the company saw very strong momentum in the March quarter as the WARP (weighted average retail price) reached an all-time high of $988. I believe it could have gone even higher as the economy did great in the last quarter. If the WARP was the same for Q3, that would result in $42 billion (+3.2% YoY) of iPhone sales. That's contrary to FactSet estimates of a 1.2% decline YoY.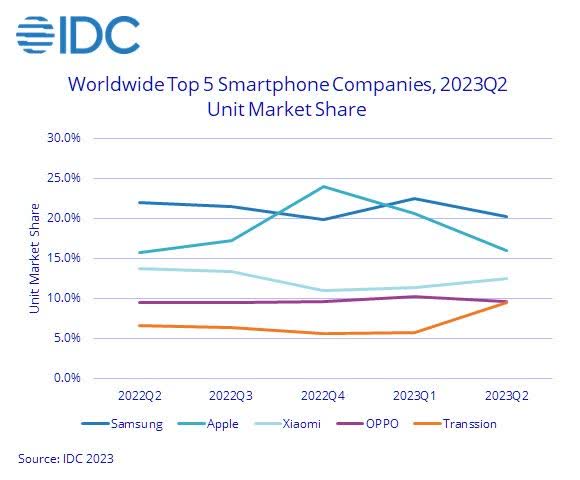 The PC and laptop market in April-June recorded a decline of 13.4% YoY, but Apple sales showed a growth of 10.3% YoY in unit terms. The likely reason for this dynamic was the January 2023 launch of the MacBook Pro with the M2 chip, as well as the late release of the MacBook Air in June 2022, which resulted in its sales not falling into the 2022 FQ3 results, creating a low base effect.
Apple also released several products in the past quarter:
15-inch MacBook Air (M2 chip).
Mac Studio (M2 Max and M2 Ultra chips).
Mac Pro (M2 Ultra chip).
FactSet estimates $6.3 billion in Mac sales.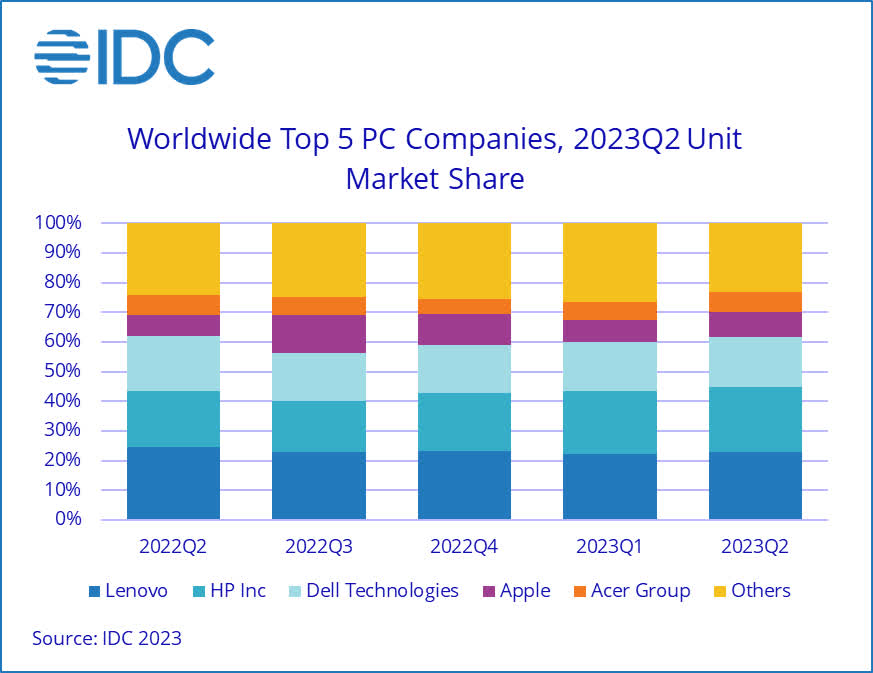 iPad and "wearables, home and accessories" category sales are difficult to predict using the macro environment since Apple is the absolute leader in these areas and Garmin sales, for example, hardly correlate with Apple Watch sales. At the same time, the company hasn't provided guidance since 2020. FactSet projections here go like this:
iPad revenue: $6.4 billion.
Other products: $8.3 billion.
Services: The bright spot in every Apple's quarter
Services have long been one of the main Apple's growth drivers. Paid subscribers have doubled in just three years.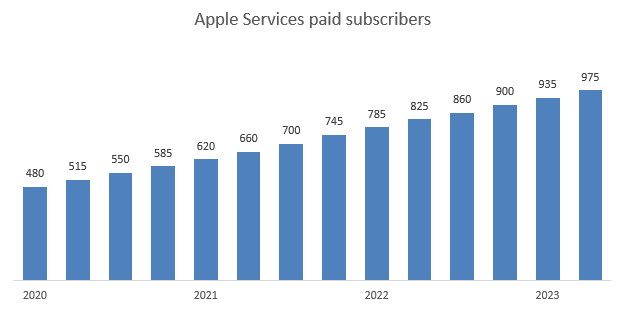 The room for growth here is massive as in the FQ2 2023, the average quarterly revenue per user was $21 (or $8 per month). Apple has all the resources to push that number into double digits, strengthen the ecosystem, and push audiences away from Netflix (NFLX) and Disney (DIS) in favor of Apple TV+ and from Spotify (SPOT) in favor of Apple Music.
As for the third quarter, FactSet expects $20.7 billion in Services revenue.
Thus, the full revenue structure for Q3 goes like this:
| | | | |
| --- | --- | --- | --- |
| | Q3 2023 (E) | Q3 2022 | YoY change |
| iPhone | 41,990 | 40,665 | 3.2% |
| iPad | 6,400 | 7,224 | -11.5% |
| Mac | 6,300 | 7,382 | -14.7% |
| Others | 8,300 | 8,084 | 2.6% |
| Total (products) | 62,990 | 63,355 | -0.6% |
| Services | 20,700 | 19,604 | 5% |
| Total revenue | 83,690 | 82,959 | 0.8% |
The reason it doesn't show a YoY decline, as analysts warn us, is the iPhone's potential uptick and Services growth. These categories account for 75% of all revenues generated by Apple. That's why minor changes in these two lines may change the whole picture, and that's why I am watching them closely in the upcoming report and you should, too.
Why I am still not buying? Valuations and other risks
In terms of multipliers, Apple is 50-60% more expensive than the industry average, compared to peers it costs more than most smartphone manufacturers, but it's important to understand that Apple is already an absolute benchmark for mobile devices (and not only), which has a powerful ecosystem. Therefore, it makes little sense to compare with the same Xiaomi (OTCPK:XIACF) or Samsung (OTCPK:SSNLF). But still, AAPL is historically closer to the upper limits of the multipliers' ranges.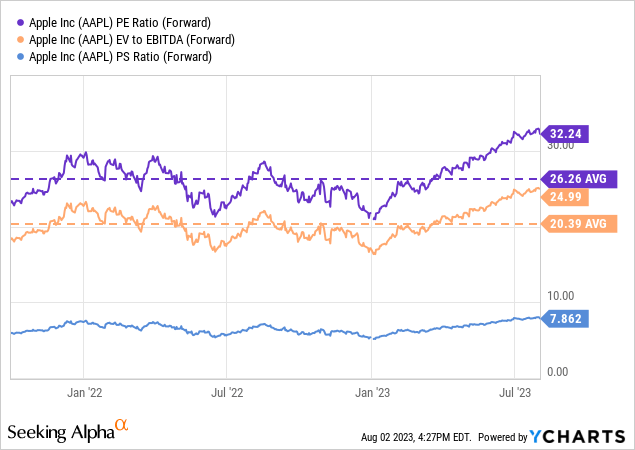 On the other hand, the trend to fight the big technological monopoly remains relevant both in the U.S. and in other countries, in connection with which Apple may face a number of legal restrictions that will harm certain areas of the company's business. Apple's high reliance on gadget assembly in China has already led to a loss of revenue in 2022, in connection with which the company will increasingly restructure business processes, which, in turn, may lead to higher costs and lower margins. Finally, in the event of a deep economic downturn in 2023 and beyond, Apple could experience a significant drop in consumer demand, which would directly impact financial performance.
Conclusions
I believe that Apple had a fairly strong quarter and is set to beat the analysts' expectations. Two things that would make the picture for the market in this report would be iPhone sales and Services revenue since they make up for 75% of total revenue. The management comments for the next quarter and year would also be important here.
However, even given that I expect another strong quarter doesn't make me bullish on Apple, Inc. stock, as it still appears expensive and faces other non-valuation risks, in my opinion.