When the is rallying and at full strength, it is a clear headwind for precious metals like and .
But when King Dollar loses his crown and weakens, it is a clear tailwind for precious metals.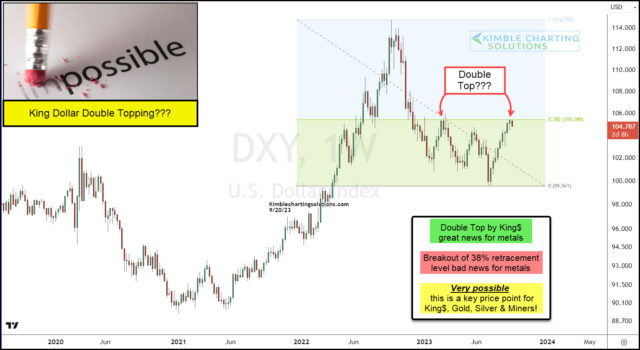 USD Chart
Today's chart of the US Dollar Index highlights why we are at a key decision point. And whichever way the Dollar breaks should decide the fate of gold and silver over the coming weeks and months.
As you can see, the US Dollar has stalled out at its recent highs and 38.2% Fibonacci retracement level. This stakeout is also occurring at the prior 2023 highs and may be forming a double-top pattern.
If this level holds as resistance, then gold and silver may rally. But if the US Dollar breaks out, it would be bad news for precious metals like gold and silver.
It is very possible that this is a key price point for King Dollar and precious metals. Stay tuned.