This week will feature a ton of economic data that will likely reveal that the job market remains strong and the economy remains robust. have consistently decreased in the past few weeks, and the Indeed job openings have increased in July.
Additionally, the 2Q came in stronger than expected. This all points to an economy that remains robust and an environment likely to see rates push higher from here.

Again, as I have talked about for some time, the equity market appears to be underestimating interest rate risk as the equity risk premium between stocks and bonds moves to levels not seen in many years.
But first, one big critical piece of data that will come on Monday at 2 PM ET will be the Senior loan officer survey. This will give investors a sense of whether credit conditions are tightening and whether or not banks are pulling back on lending.
At least based on data that is reported weekly commercial and industrial loans and leases have only seen a modest pull before and remain at historically high levels.

On Tuesday, we will get the data and the index, while on Wednesday will be the job report; on Thursday, initial jobless claims, unit labor cost, and productivity. Finally, on Friday will be the job report, with expectations for 200k new jobs to be created in June, along with an of 3.6%, unchanged versus last month.
Financial conditions have fallen dramatically since mid-March, so it is no surprise that economic data has primarily come in better than expected—the Bloomberg economic surprise index has risen significantly since the start of April.

It is no wonder why rates on the long end of the curve are pushing higher, threatening to break out, and preparing to challenge their October highs. The rate appears to be positioned to move back over 4.25%, and this week's data could provide that catalyst.
It isn't all that different for the rate, which is also challenging a breakout this week, that could see it back to 4.25% and potentially higher.
The spread between the current earnings yield and the 10-year rate is now just 59 bps, and you can see on the chart this appears to be an essential infection point.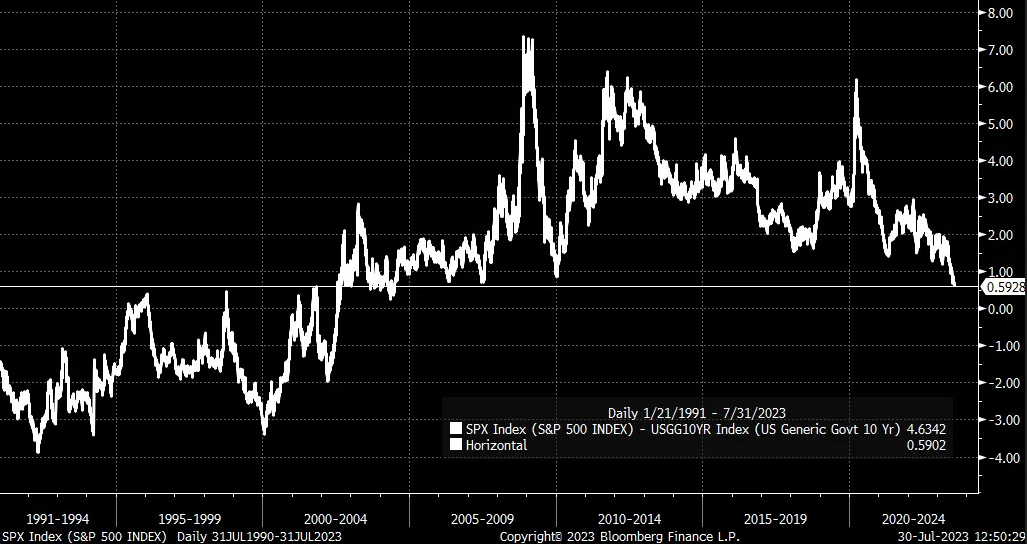 Even the dividend yield minus the 10-year is at an inflection point, currently at approximately -2.45%. Going back to the early 1970s shows that area around -2.5% has been a vital support and resistance zone for the market.
If the Dividend yield began to rise from here, and the spread between the 10-year rate and the S&P 500 dividend yield began to rise again, it wouldn't be surprising, given its historical importance.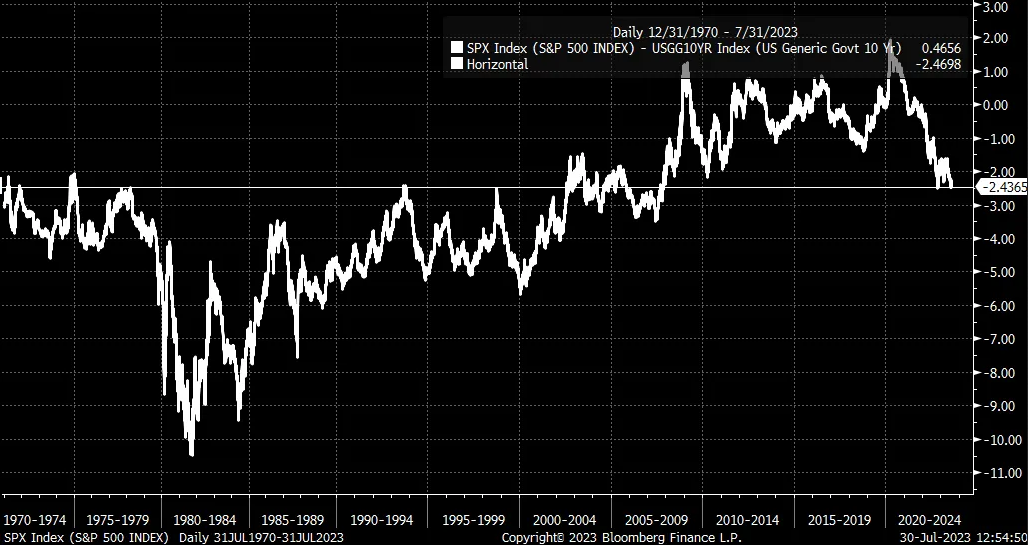 Certainly, the more rates and equity prices rise, the more these spreads will narrow, and the more expensive stocks will continue to become versus bonds. It would certainly seem reasonable at this point if rates rise back to their highs of the past two years could make stocks very uncomfortable with the valuation currently stretched.
It isn't only economic data that can lift rates because prices are rising and very close to breaking out this week and potentially climbing back to the low 90s; it will take a move over $83 for that to happen, though.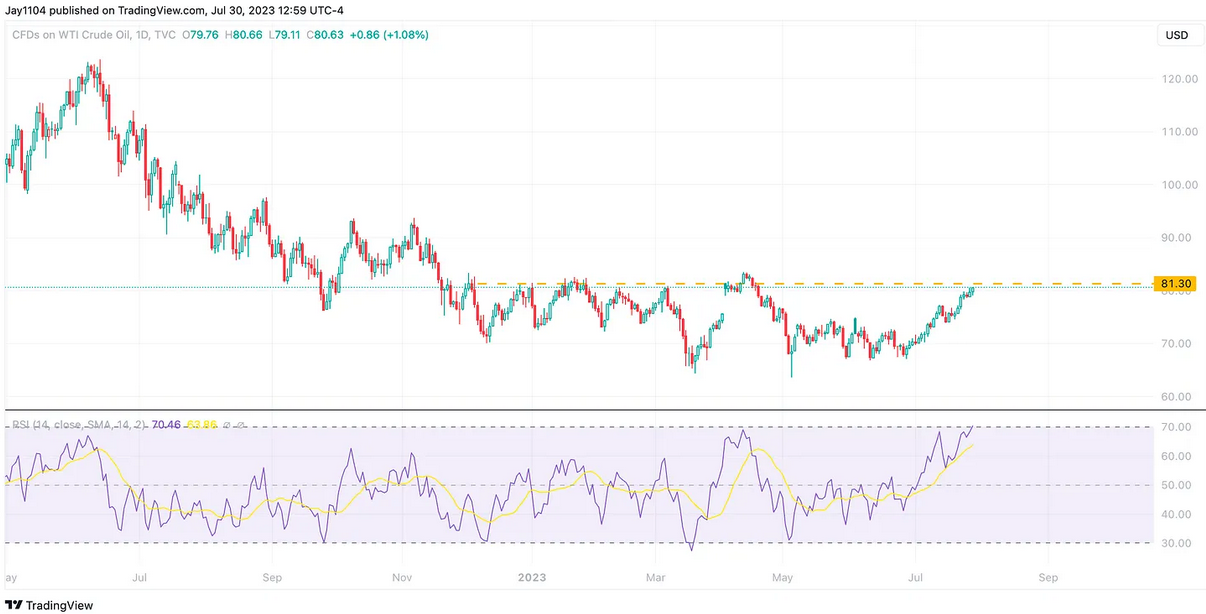 Gasoline prices appear to be consolidating ahead of what could be a substantial move higher, towards $3.15.
Meanwhile, the S&P 500 formed a rather large bearish engulfing pattern on Thursday, and while the index rebounded on Friday, it only managed to recover about 78% of Thursday's drop.
If the index doesn't take out the high early this week at 4,605, that may be the end of the rally, and it may usher in a significant drop in the index that I think erases this rally and pushes the index back below 4,200.
There is also a rising wedge pattern in the S&P 500, and if that lower up trend breaks around 4,500, a return to the origin of the S&P 500 means a drop back to 4,100.
Anyway, that's all for today.
This week's Free YOUTUBE video: