Tomorrow's initial estimate of US by the government for the second quarter (scheduled for Thursday, July 27) is expected to report that a moderate expansion continues, based on the median estimate via several sources compiled by CapitalSpectator.com.
Growth for the April-through-June period is on track to pick up slightly to a seasonally adjusted annual rate of 2.2% in Thursday's release (July 27) by the Bureau of Economic Analysis. This median nowcast is modestly above the 2.0% rise reported for Q1.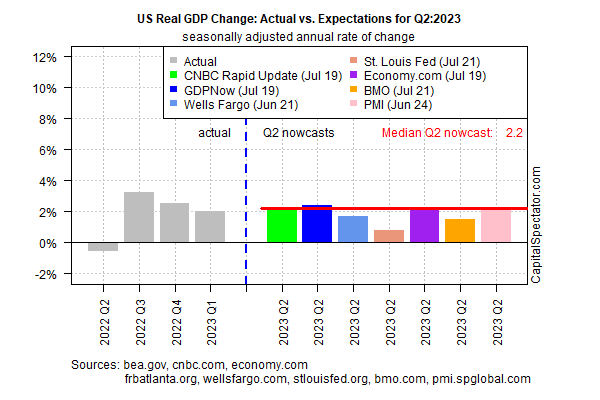 GDP – Actual vs Expectation for Q2-2023
Today's revised estimate of 2.2% for Q2 marks a pick-up from the previous 1.9% estimate published on July 6. Encouraging, although economists overall are looking for a slowdown to 1.5%, according to the consensus point forecast via Econoday.com. This lesser view suggests there are larger downside risks to CapitalSpectator.com's median nowcast than implied in the range of numbers shown in the chart above.
Meanwhile, new survey data for July points to a slowdown in economic activity for the start of Q3. The "US expansion loses momentum as service sector growth slows in July," S&P Global reports in this week's flash estimate of the US PMI, a survey-based GDP proxy.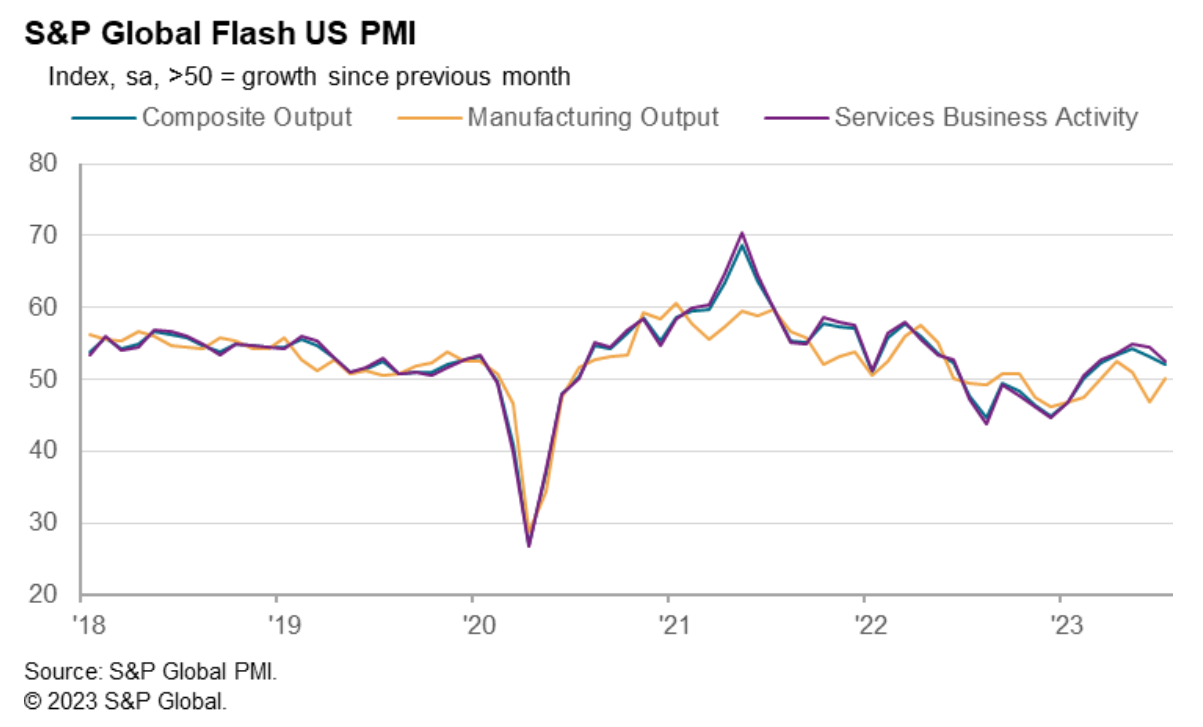 Chris Williamson, the chief business economist at S&P Global Market Intelligence, said, 
"July is seeing an unwelcome combination of slower economic growth, weaker job creation, gloomier business confidence and sticky inflation. The overall rate of output growth, measured across manufacturing and services, is consistent with GDP expanding at an annualized quarterly rate of approximately 1.5% at the start of the third quarter. That's down from a 2% pace signaled by the survey in the second quarter."