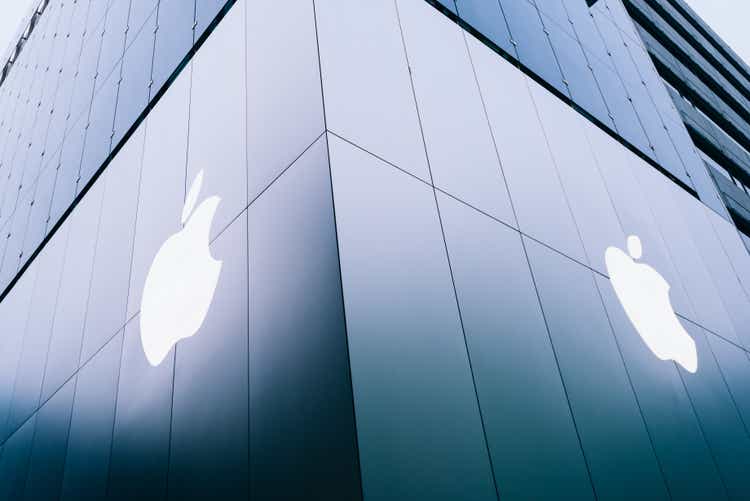 Given the promise of AI to transform products and services across industries, investors have been throwing money at technology stocks that they deem to be big beneficiaries of this revolution. Apple (NASDAQ:AAPL) is no exception. Though the company has been more nuanced about its AI capabilities, partly because its executives refer to it as 'machine learning' instead. While Apple's AI-related announcements in June may seem simple, investors should recognize that beneath the surface are immense revenue growth opportunities. Nexus Research has a buy rating on the stock.
In June, Apple held its Worldwide Developers Conference (WWDC) 2023 and made various new announcements, with the Apple Vision Pro taking the spotlight. Aside from its long-awaited VR headset, Apple also announced iOS 17, the latest operating system for iPhones with new AI-powered features, which are frankly quite simple in nature.
One of the new features includes an enhanced autocorrect system driven by an advanced AI model. It is designed to better anticipate the next words and phrases a user is likely to type based on the context. As time progresses, the autocorrect will familiarize itself with the user's style, learning the words that the user frequently uses, constantly improving its proactive suggestions.
Furthermore, Apple is also deploying its AI capabilities by introducing a new app called Journal, a personal diary that provides customized recommendations based on activities performed within various other applications, including new photos taken and places visited based on location tracking and Apple Maps usage.
One of the most popular AI-powered features remains Siri. While iOS 17 includes Siri updates like easier activation, it is fair to say that there is a lot of room for advancements to make Siri much more conversationally engaging for the era of generative AI.
The good news is, Apple is already working on enhancing its generative AI capabilities. Currently, Apple has listed over 600 jobs related to generative AI. This indeed includes jobs related to Siri, whereby Apple seeks to develop "the next generation of natural language understanding capability of Siri".
Given Apple's ambitions, one can reasonably expect Siri to morph into a more versatile virtual assistant, extending beyond fulfilling various commands towards facilitating a more engaging conversation. It should allow users to learn more about topics of interest through Siri more seamlessly and insightfully, and engage more easily in commercial activities such as eating and traveling. More importantly, it should allow Siri to learn much more about its users in an interactive manner.
So what does all this mean from an investor's perspective? The most obvious outcome will be Apple's enhanced ability to keep users knotted into its ecosystem. As these AI-powered services like Siri become better and better at serving the users' needs through familiarization, it should induce users to remain within the Apple ecosystem, as they wouldn't want to go through acquainting all over again with another virtual assistant like the Google Assistant on Android-powered phones.
Therefore, users will not only continue upgrading their iPhones, but will also more likely use other Apple hardware devices like MacBooks and Apple Watches, as the usage-based familiarization of these AI-powered applications/ assistants will be synchronized across devices. Ultimately, this leads to recurring and growing revenue.
Though this could be just the tip of the iceberg.
Apple's growing commercial opportunities
Apple's growing advertising ambitions are well-known by now, though it does not disclose its ad revenue. It is estimated to have generated around $5.3 billion in advertising revenue in 2022. The tech giant sits on plenty of user behavior and activity data, and already deploys this information to show targeted ads in places such as the News and Stocks apps.
Advancements in Siri should open the doors to more intricate data collection opportunities. Currently, there are already thousands of third-party apps that integrate with Siri to allow users to more easily engage in commercial activities, such as ordering one's regular Pizza, usually in the form of shortcuts. Siri can even assist users in discovering restaurants and making table reservations. Hence, Siri is already able to learn about users' varying preferences. Though users' current interaction with Siri remains mostly in the form of 'give command – complete task'.
Siri's advanced conversational capabilities over time should allow it to better understand the nuances of users' inclinations when they engage in commercial activities like shopping, eating, travelling and even indulging in entertainment like movies and sports. A back-and-forth conversation with a more intelligent assistant allows users to go into more details about their preferences, and even gives Siri more opportunities to recommend different items to better understand users' decision-making processes.
This enables Apple to collect much more insightful and valuable data on users, which can feed into Apple's targeted advertising efforts. Depending on how deeply-imbedded Siri is into users' daily routines, Siri could potentially even be programmed to be intelligent enough to know which are the best times to show ads based on users' schedules, and in which places/ applications to show them for optimum conversion rates for advertisers. Therefore, continuous advancements in Apple's AI-driven large language models can help significantly enhance the value proposition of its ad solutions, and consequently boost advertising revenue.
Beyond advertising, generative AI-driven advancements in virtual assistants can also boost revenue in other forms. Currently, Apple does not charge the third-party apps like Starbucks directly for integrations with Siri for shortcuts. Instead, these integrations serve to encourage more app developers to sell app-related services through the Apple App Store, and stay deeply imbedded in iPhone users' daily routines through Siri integrations. The subsequent growth in in-app sales and subscriptions produce lucrative App Store commissions for Apple, boosting Services revenue. Additionally, these integrations also keep users increasingly tied to the Apple ecosystem, conducive to iPhone upgrades and cross-selling of other hardware products.
As Apple continuously advances Siri's ability to engage in intuitive, human-like conversations, the appeal of integrating apps with Siri will also augment. The ability to have more seamless conversations with Siri should encourage greater utilization among iPhone users, particularly as they are able to tell Siri more specifically what they are after when engaging in commercial activities. Consequently, Siri will become a powerful tool through which third-party merchants can learn much more about their customers' preferences, which can feed into their own R&D efforts.
Integrations with Siri could indeed become a necessity for merchants in the era of generative AI, as it becomes an increasingly important mechanism to reach Apple's growing installed base, which stood at over 2 billion active devices last quarter. This should bolster Apple's App Store pricing power, or at least bolster its ability to sustain the widely-criticized 15-30% commission rate. Merchants/ app developers could indeed become more willing to pay the commission fees given the growing value proposition of Apple's technology in facilitating more interactive commercial transactions.
Visual AI opportunities
Other than large language model advancements, Apple has also been making progress in its computer vision technology. As part of iOS 17, Apple has been making advancements to its 'Visual Look Up', enabling users to look up and learn even more about objects in photos and videos. To be clear, Apple is lagging Google with this technology, given the versatility of Google Lens.
Nonetheless, continuous 'Visual Look Up' advancements foster Apple's ability to facilitate commercial activities, like shopping for clothes or food, especially as they combine with Siri. According to Apple's job listings, the tech giant is already seeking to advance Siri's ability to engage in multi-modal conversations, looking for talent that is "passionate about researching and developing new Siri experiences using data from multiple modalities such as speech, vision, and other sensors arising from human-machine interaction". Such advancements, combined with an increasingly conversational Siri, will enable even more seamless commercial activities. This should further augment the appeal for merchants to sell through the Apple App Store and integrate with Siri and/or other AI-driven assistants on Apple devices, ultimately increasing Apple's Services revenue.
That being said, here's what is even more exciting. Apple's launch of Apple Vision Pro could prove to be even more transformative to Apple's growing commercial ecosystem.
Most people are aware now of the ability to create digital avatars with Apple Vision Pro, enabling users to engage in video chats with enhanced realism. Apple employs advanced machine learning (a more sophisticated term for AI) to authentically replicate a user's facial expressions and hand gestures during FaceTime conversations. To generate 3D, hyper-realistic digital avatars, users are required to scan their faces using the front-facing cameras of the headset.
This is where Apple's AI innovations, combined with Augmented Reality [AR] / Virtual Reality [VR] technology, expand into grander opportunities. While Apple's introductory video for Vision Pro mainly focused on advanced Facetiming, entertainment through movies and gaming, and a new workspace environment, the possibilities extend beyond these activities. The Apple Vision Pro will inevitably revolutionize the digital shopping experience.
The ability to try-on apparel virtually through mobile phone cameras already exists, thanks to AR technology from companies like Snap Inc., (SNAP) and later emulated by e-commerce giant Amazon (AMZN). The Apple Vision Pro can take this to a whole new level. The Mixed Reality [MR] headset has "twelve cameras and five sensors for monitoring hand gestures", combined with the aforementioned machine learning/ AI technology for replicating a user's facial expressions and hand gestures as realistically as possible. Over time, the Vision Pro will likely get increasingly better at replicating the user's entire body, conducive to much greater experiences for virtually trying on clothes/apparel.
Furthermore, with the Apple Vision Pro, users can even visualize products in various scenarios, allowing them to envision themselves wearing pieces of clothing in environments where they intend to where it, such as an elegant dinner gathering or a beach. This enables customers to make much more informed purchasing decisions, potentially conducive to higher conversion rates and satisfied customers for third-party apps.
In fact, merchants' app developers will be able to build much more immersive stores in mixed reality environments. Merchants will also not be bound to just building one kind of store with a fixed theme and vibe, the way physical stores do. The headset performs complex data analytics to empower stores with exceptional capabilities in the background. By scrutinizing users' shopping behaviors, preferences, and emerging trends, stores can generate outstanding recommendations that are tailored to customers' individual needs.
As Apple's AI technology enables retailers to learn more and more about users' personal preferences, they will have the ability to continuously alter store formats to fit individual users' unique styles. Keep in mind that the Vision Pro is also voice-controlled with eyes-tracking capabilities, opening the doors to collecting new forms of multi-modal data simultaneously, giving retailers incredible new insights into their customers' shopping behaviors and preferences. This will take personalized shopping to a new level, again conducive to higher conversion rates.
So what does all this mean from an investor's perspective? Just like how advancements in Siri and subsequent integrations are conducive to growth in Apple App Store commission revenue, the Vision Pro's ability to facilitate even more personalized and enhanced shopping experiences could indeed drive further App Store revenue growth, as developers transform their existing mobile apps for the new mixed reality environments. The AI built into this new type of technology gives retailers completely new ways to serve and learn intricately more about their customers. Hence, third-party app developers could indeed become less inclined to spend on legal fees to challenge Apple's high commission rates, and instead allocate more resources towards revolutionizing their own apps and fully exploit the rising opportunities offered by this new age technology, therefore bolstering Apple's ability to generate services revenue.
Risks to bull case for Apple
Will people use Apple Vision Pro?: The software revenue generated through the Apple Vision Pro will indeed depend on people actually buying the headset, and routinely using it. The incredible technology comes with a commensurate price tag of $3,499. Analysts expect sales to be in the "hundreds of thousands of units over the year… versus the tens of millions of iPhones Apple sells in a quarter". Though the proof will lie in forthcoming quarterly earnings reports.
Apple's own expectations and sales goals are unclear at this point. Apple's products are primarily considered to be part of the luxury category, but if it wants to encourage wide-spread adoption across the masses, it will need to work towards bringing the price tag lower.
Furthermore, even if Apple is able to bring down the price, there is of course the question of whether people will actually want to spend more and more time in MR headsets. Though Apple seems to have done a better job at showcasing a more appealing environment to dive into through Vision Pro than Meta's VR headset. If there is any company that can convince even the most stubborn AR/VR skeptics to indulge into the new form of computing, it's likely to be Apple.
Valuation: Apple's valuation faces a similar problem as the Vision Pro, it's expensive. Apple currently trades at almost 32x forward earnings, that is 31.44% higher than its 5-year average of over 24x. However, the earnings growth potential is just as promising.
Last quarter, the Apple Products segment (consisting of hardware sales) made up nearly 78% of total revenue. Generative AI advancements deployed through services like Siri will keep users increasingly locked into the Apple ecosystem, conducive to upgrades to newer versions of hardware products, and enhanced ability to cross-sell new hardware devices. This allows for continuous Product revenue growth.
AI-driven enhancements also allow Apple to learn much more about users' preferences, bolstering targeted advertising efforts. Moreover, advancements in Siri's conversational capabilities and subsequent third-party integrations also allow merchants to learn much more about their customers. This is further bolstered by the new AI capabilities of Vision Pro, offering incredible new personalization opportunities to drive higher sales conversions. This should ultimately result in growing Apple App Store commission fees, conducive to Services revenue growth. The Services segment made up 22% of company-wide revenue last quarter, and is also a more profitable segment, with a gross margin of 71% in Q2 2023.
That being said, given the expensive valuation after rallying around 48% this year, the stock could be vulnerable to a pullback. On the other hand, given Apple's promising growth prospects ahead in the age of AI, the market may not let the stock trade at cheap valuations. Investors should treat Apple as a long-term investment, and be willing to buy more in the event of stock price dips.