The red-hot economic growth in the third quarter remains on track to decelerate sharply in the final three months of the year, based on the median nowcast via a set of estimates compiled by CapitalSpectator.com.
US output is currently estimated to be 1.0% in Q4, according to today's data. The nowcast reflects a sharply softer pace of growth vs. Q3's 4.9% , the highest in nearly two years.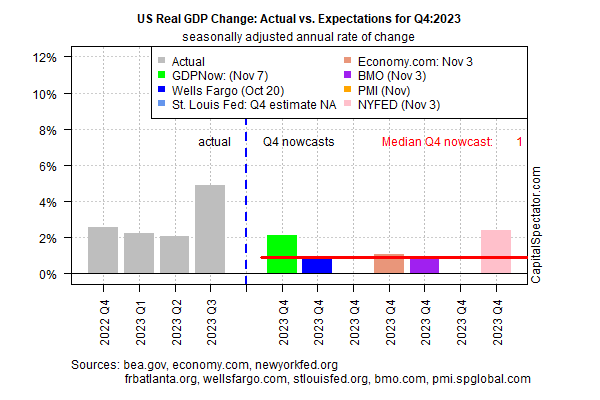 US Real GDP Change
Today's median nowcast is fractionally above the previous estimate.
The longer the slower nowcast persists, the more reliable the estimate will be in terms of aligning with the actual number, which is scheduled for release by the Bureau of Economic Analysis in late January.
Most of the Q4 economic numbers are still missing so today's nowcast should be viewed cautiously. That includes assuming that the slowdown in GDP growth will trigger a recession in 2023's final quarter.
As discussed yesterday, while the case for slower growth in Q4 is mounting, the odds still look relatively low that an NBER-defined recession will start in the final three months of 2023.
Even if the US avoids the start of a recession in Q4, a slowdown – if it's substantial – would raise warning flags for 2024.
The labor market will likely be a key indicator for tracking recession risk, advises Claudia Sahm, a former Federal Reserve economist and creator of the Sahm rule that uses unemployment changes to estimate the probability that an economic downturn has started.
Although the Sahm indicator for October doesn't signal a recession has started, it's getting close to a level that marks the start of contraction.
Sahm tells the Financial Times:
"If you lose the labor market, you lose consumers, and if we lose consumers we're done because they're two-thirds of the US economy,"

"After such a severe recession, if we're able to maintain something that looks like this, then we're doing well. If it all falls apart, then clearly the rebalancing wasn't successful.

That's entirely possible and it's why I watch the labor market very carefully."