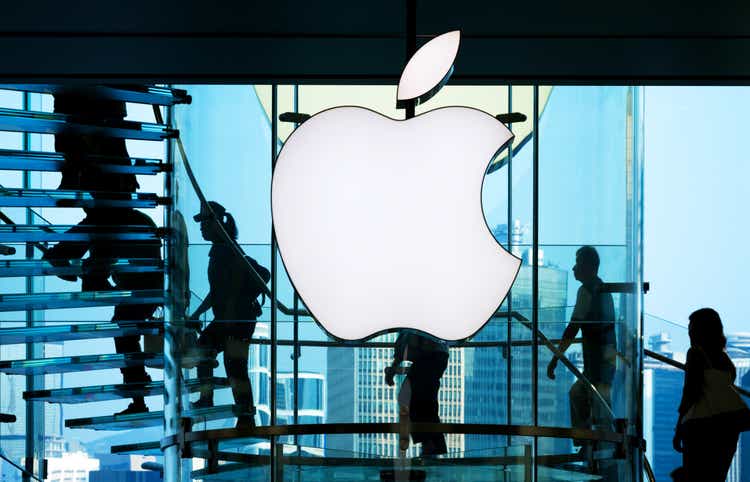 Around four years back, I wrote an article on the Apple Home IoT Market and argued that Apple Inc. (NASDAQ:AAPL) has huge potential. If it succeeds in making technological innovations by providing new AI capabilities in its Smart Home devices, it could lead the IoT (Internet of Things) market despite their higher price.
The growth of the Smart Home market has indeed presented significant opportunities and challenges for various players, including Apple. While the market's potential for expansion is substantial, it's important to understand the dynamics that have impacted Apple's performance in this segment.
As per International Data Corporation (IDC) Worldwide Quarterly Smart Home Device Tracker, the global market for Smart Home devices is expected to reach ~857M shipments in 2023. Smart Home devices shipment is projected to grow with a CAGR of ~6.2% from 2023 to 2027, with approximately 1.1B devices expected to ship by 2027, as customers continue to adopt multiple devices within their homes.
Per Research & Market report – Global Smart Speaker market is expected to grow at a CAGR of 25% to $84B by 2030
Apple's Entry into the Smart Home Market:
Apple's entry into the Smart Home market was marked by the introduction of its HomeKit framework in 2014. HomeKit aimed to provide a unified platform for smart home devices to communicate and work seamlessly together under the Apple ecosystem. The idea was to leverage Apple's brand, design prowess, and user experience to create a compelling Smart Home ecosystem.
Challenges Faced by Apple:
Late Entry: Apple entered the Smart Home market later than some of its competitors, like Amazon (AMZN) and Google (GOOG). This gave competitors a head start in establishing their devices and ecosystems.
Fragmented Ecosystem: While HomeKit provided a unified platform, it faced challenges in terms of compatibility with existing non-HomeKit devices. This fragmentation limited the options available to consumers and hindered the growth of the ecosystem.
Limited Device Selection: Apple's initial selection of HomeKit-compatible devices was limited compared to the wider range of devices offered by competitors. This impacted consumer choice and adoption.
Price Point: Some of Apple's Smart Home offerings were positioned at a premium price point compared to similar devices from competitors. This could have hindered adoption, especially in a market where price sensitivity is a factor.
Privacy Concerns: While Apple's emphasis on user privacy is a strength, its stringent privacy policies may have led to slower adoption among device manufacturers who needed to adhere to Apple's strict guidelines.
Competition: Amazon's Echo products and Google's home devices gained substantial traction, partly due to their early entry, aggressive pricing, and integration with their respective ecosystems.
Current Key Players:
While Amazon and Google have established themselves as prominent players, there are several factors that contribute to their dominance. Let's take a closer look at the current key players in the Smart Home market and how Apple fits into this landscape:
1. Amazon:
Amazon's Alexa-powered Echo devices have played a pivotal role in popularizing voice-controlled smart assistants in households. Alexa's extensive skills and integration with third-party devices have made it a central hub for Smart Home control. Amazon's early entry, wide product range, and aggressive pricing have contributed to its market leadership.
2. Google:
Google's Google Assistant, integrated into Google Home devices, has established itself as a strong contender in the Smart Home space. Google's ecosystem and search capabilities provide a competitive edge. Its focus on AI and machine learning enhances user experience, and its integration with Android devices offers a seamless Smart Home experience.
3. Samsung (OTCPK:SSNLF):
Samsung's presence in the Smart Home market is notable due to its diverse range of products and investments in smart technology. The development of Bixby and Tizen platforms showcases Samsung's commitment to providing a comprehensive Smart Home ecosystem. Samsung's existing product lines, including smartphones, TVs, and appliances, offer potential integration points.
4. Apple:
Apple's approach to the Smart Home market has been more cautious, focusing on quality, security, and privacy. While Apple has a loyal customer base and a strong ecosystem, it entered the Smart Home market later than its competitors. HomeKit, Apple's Smart Home framework, aims to provide a secure and seamless experience for iOS users. Apple's HomePod also offers high-quality audio and integration with other Apple devices.
5. Other companies in the Global Smart Speaker Market include Alibaba Group Holding Ltd., Baidu, Inc., Xiaomi Corporation, Sonos, Inc., Bose Corporation, Harman International Industries, Inc. and Lenovo Group Limited.
Key Trends and Apple's Position:
The assimilation of smart assistants throughout the home is indeed a key trend to watch. Smart assistants have the potential to become the central control hub for Smart Home devices, streamlining user interactions and enhancing convenience. Amazon and Google have capitalized on this trend by offering a wide range of compatible devices and integrating their assistants deeply into users' lives.
Apple has room to catch up in this area. While HomeKit offers a secure and cohesive platform, Apple's range of compatible devices and integration has been more limited compared to competitors. To establish a more dominant presence in the Smart Home market, Apple should focus on:
Expanding its range of HomeKit-compatible devices across different categories.
Enhancing integration between HomeKit and other Apple devices to provide a seamless user experience.
Collaborating with more third-party manufacturers to increase device compatibility.
Leveraging its privacy-focused approach as a differentiator in the market.
Apple current strategy and future prospects:
Despite the challenges, Apple has taken steps to enhance its position in the Smart Home market:
Ecosystem Integration: Apple continues to leverage its ecosystem to appeal to existing customers. Integration with Siri, HomePod, and other Apple devices remains a selling point.
Privacy Differentiation: Apple's commitment to user privacy could become a strong selling point as consumers become more conscious of data security.
Broadening Device Compatibility: Apple has been working to increase compatibility with third-party devices, allowing a wider range of products to work within the HomeKit ecosystem.
Partnerships: Collaborations with device manufacturers and developers can expand the selection of HomeKit-compatible devices, providing more choices for consumers.
Innovation: Apple's focus on design and innovation could lead to the introduction of unique Smart Home devices that capture consumer interest.
As the Smart Home market continues to grow, Apple has the potential to leverage its brand, design excellence, and ecosystem to capture a larger share. By addressing challenges and adapting its strategies, Apple can position itself to compete effectively and provide a compelling Smart Home experience for its customers.
Understanding the Smart Home Ecosystem:
The Smart Home ecosystem has evolved to include virtual assistants with AI companions, which are becoming integral members of modern households. These AI-powered smart speakers, such as Amazon's Alexa and Google Home, have gained significant traction and are poised for further adoption as AI capabilities continue to evolve. This evolution presents both opportunities and challenges for companies operating in the Smart Home market.
Early Adoption and AI Advancements:
The adoption of smart speakers and virtual assistants is still in its early stages, but it is steadily growing as consumers recognize the convenience and value they offer. These devices serve as more than just tools; they have transformed into AI companions that assist with daily tasks, provide information, and offer entertainment.
As AI capabilities advance, virtual assistants are becoming more sophisticated in understanding and responding to human interactions. Natural language processing (NLP) is a crucial component, enabling devices to comprehend and generate human language. This advancement has opened the door to a wide range of applications beyond basic commands, including personalized recommendations, context-aware responses, and even emotional intelligence.
Data Generation and Insights:
The widespread adoption of smart speakers and virtual assistants has generated a massive amount of data on human behavior and preferences. These devices capture interactions, search queries, preferences, and usage patterns, creating a valuable dataset for companies. This data can be harnessed to gain insights into consumer behavior, preferences, and trends, offering companies a deeper understanding of their customers.
Amazon and Google's Dominance:
Amazon and Google have successfully positioned themselves as leaders in the Smart Home ecosystem through their respective virtual assistants, Alexa and Google Home. These companies have leveraged their existing platforms and ecosystems to create seamless experiences for users, integrating voice commands and AI-driven assistance into various aspects of daily life.
Investment and Market Potential:
The rising popularity of AI-powered smart assistants has fueled increased investment in AI and NLP technologies. Companies are eager to capture a share of the Smart Home market by developing advanced virtual assistant technologies that offer unique and valuable features to consumers.
Challenges and Opportunities:
While the Smart Home ecosystem is promising, challenges and opportunities lie ahead:
Privacy and Security Concerns: As virtual assistants collect personal data, privacy and security become critical concerns. Companies must prioritize data protection and transparency to maintain consumer trust.
Interoperability: The Smart Home ecosystem includes a multitude of devices from different manufacturers. Ensuring interoperability and seamless integration among these devices remains a challenge.
Personalization and Contextual Understanding: Advancing AI to provide truly personalized and contextually relevant interactions will enhance user experiences and drive adoption.
Ecosystem Expansion: Companies can capitalize on the growth of the Smart Home market by expanding their ecosystems to include a wide range of compatible devices and services.
Investment in Smart Home enabling technologies:
Many corporations and institutional investors are investing heavily in the Smart Home market. Amazon started investing in companies developing Alexa-compatible technologies across a variety of categories ranging from private robots to baby socks that monitor an infant's breathing and heart rate.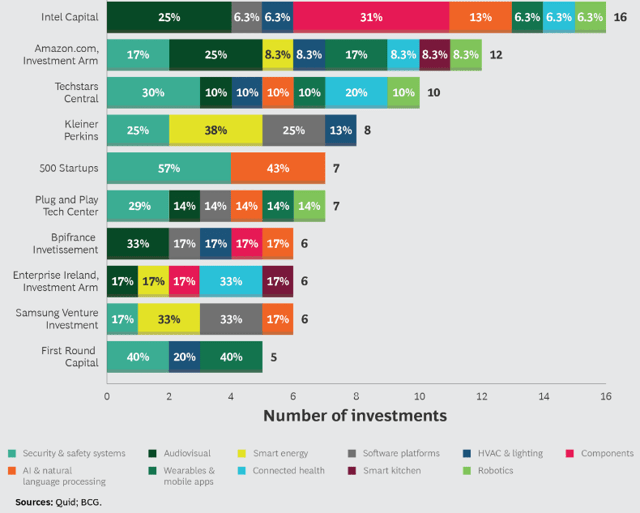 Amazon, Google, and Samsung appear to be the most aggressive investor in Smart Home technologies.
Amazon paid a huge premium to Ring for acquiring ~1.6M Ring customers who can be easily integrated with Amazon Echo virtual assistant
Samsung acquired Perch, a company that converts old smartphones into security cameras
Samsung also co-invested with Intel (INTC) in MindMeld, a voice interface company that utilizes natural language processing to create conversational AI
Google purchased several remote monitoring companies including Revolv and Dropcam.
Potential adoption rate of Apple's mixed-reality headset:
The potential adoption rate of Apple's mixed-reality headset (Vision Pro) among iPhone users is an intriguing topic, drawing comparisons to the success of products like AirPods and the Apple Watch.
While the mixed-reality headset holds promise, there are several factors to consider, including the cost, technological advancements, and consumer preferences. Let's explore this scenario in more detail:
1. Parallel to AirPods and Apple Watch Adoption:
Apple has a track record of introducing innovative products that eventually become mainstream, as seen with the AirPods and Apple Watch. Both these products started as niche offerings but gained widespread adoption over time. The mixed-reality headset could potentially follow a similar trajectory if it manages to capture users' imaginations and offer compelling use cases.
2. Higher Cost and Premium Experience:
It's true that the mixed-reality headset is expected to come with a higher price tag compared to AirPods and the Apple Watch. This premium positioning is often associated with cutting-edge technology and advanced features. While the higher cost might initially limit widespread adoption, Apple's ability to create a premium experience and deliver value could still attract a significant user base.
3. Technological Advancements and Early Adoption:
Early adopters of technology tend to be more willing to invest in high-cost devices to experience the latest innovations. The mixed-reality headset is likely to attract tech enthusiasts, professionals in certain industries, and those intrigued by immersive experiences. Over time, as the technology matures and prices potentially decrease, the adoption rate could increase among a broader audience.
4. Ecosystem Integration:
Apple's strength lies in its ecosystem, and the mixed-reality headset is expected to leverage this by offering seamless integration with other Apple devices and services. This integration could enhance the user experience and motivate existing Apple users to consider adopting the headset.
5. Use Cases and Applications:
The adoption rate will be influenced by the practical applications and use cases that the mixed-reality headset offers. If it provides compelling experiences for gaming, productivity, communication, entertainment, and more, users may be more inclined to invest in the technology, despite the higher cost.
6. Market and Competitor Dynamics:
The mixed-reality market is evolving rapidly, with various competitors entering the space. Apple's ability to differentiate itself, offer unique features, and provide a polished user experience will play a crucial role in determining its adoption rate among iPhone users.
7. Marketing and Consumer Education:
Apple's marketing strategies and efforts to educate consumers about the benefits and capabilities of the mixed-reality headset will also impact adoption. Clear communication of features, potential use cases, and the value proposition could influence consumers' decisions.
What should Apple do?
Apple can tap into its dedicated iOS customer base to create a dominant Smart Home ecosystem. By allowing approved third-party apps and devices, Apple acts as a matchmaker, curating a secure marketplace. A unified iHome interface streamlines control, while Apple's oversight ensures quality, compatibility, and privacy. This strategy fosters innovation, data-driven personalization, and a seamless Smart Home experience, ultimately attracting a broad user adoption.
Apple's Premium Strategy and Product Evolution:
Apple's premium pricing prioritizes exceptional user experience and innovation over mass sales. Not all products initially excel, as seen with the Apple Watch's early challenges. However, Apple's commitment to refinement and user-centric updates has led to the Apple Watch becoming a top-performing smartwatch, showcasing Apple's ability to balance innovation and user satisfaction.
Apple Financials:
Even if we apply a 50% correlation of Apple Watch performance to Home IoT ecosystem product segment, Apple Home IoT sales should continue to grow ~20% year-on-year over the next 3 years. If Apple continues to make the same strides as in watch and wearable segment I can see the stock trading min $220 per share. (Providing investors ~25% upside from current trading price.)
Conclusion:
The Smart Home ecosystem, centered around AI-powered virtual assistants, holds significant potential for growth and innovation. Amazon and Google have laid a strong foundation, but the market is still evolving, offering opportunities for new entrants and established players to shape the future of Smart Home technologies. As AI capabilities continue to advance, the Smart Home ecosystem will become more sophisticated, enhancing convenience, efficiency, and personalization for consumers worldwide.
The adoption rate of Apple's mixed-reality headset among iPhone users will likely be influenced by a combination of factors, including cost, technological advancements, use cases, ecosystem integration, and market dynamics. While the higher cost could present an initial barrier, Apple's reputation for innovation and its ability to create premium experiences may attract a dedicated user base, similar to the success stories of AirPods and the Apple Watch. As the mixed-reality technology evolves and becomes more accessible, the adoption rate could potentially parallel the trajectory of these other successful Apple products.
Editor's Note: This article discusses one or more securities that do not trade on a major U.S. exchange. Please be aware of the risks associated with these stocks.