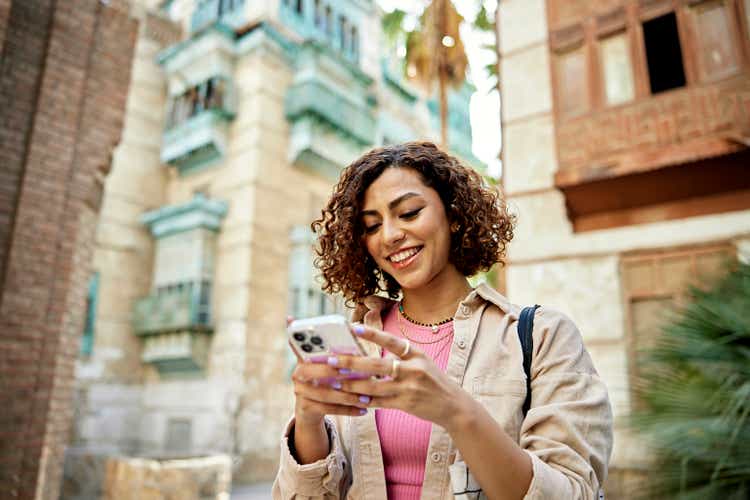 According to analysts at Bank of America (BAC), Huawei's new smartphone could pose a threat to Apple (NASDAQ:AAPL) as the Chinese company attempts to regain lost market share, provided it can scale production of its newly launched Mate 60 Pro series. Other news about a possible ban in some Chinese entities followed suit, resulting in the stock dropping by nearly 3%, or from nearly $190 to $177.56 as charted below.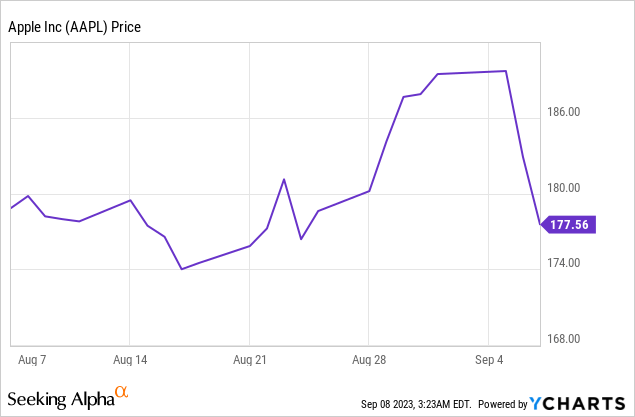 My objective with this thesis is to assess whether with its renewed vigor, after domestically developing Kirin 9000s chips for its smartphones and gaining market share with its Harmony OS, the Chinese company could impact the financial results of the Cupertino-based company. For this purpose, I will use the "stickiness" factor to show that Apple is not a Sell, highlight the risks of operating in the Chinese market, and touch upon artificial intelligence.
Market Share Evolution: Apple vs. Huawei
As seen in the red chart below, Huawei was at its peak in the second quarter of 2020 till its market share went down mostly due to U.S.-led export restrictions aimed at cutting off access to both components and technology produced by America and its allies. At the same time, Samsung (OTCPK:SSNLF) maintained its top position as shown in blue. On the other hand, as per the uptrend seen by the grey chart, it was Apple's market share that appears to have largely benefited from Huawei's woes as well as makes like Xiaomi (OTCPK:XIACY) which forms part of the others group (in yellow). This group also contains other Chinese plays Vivo and Oppo.
Noteworthily, unlike Huawei which was targeted by sanctions, both these two Chinese companies can propose 5G phones using Snapdragon Gen 2 designed by Qualcomm (QCOM). In this respect, Huawei's Chinese competitor Xiaomi shares dropped by about 6% after the announcement of the Mate 60 product launch.
Discussing the reasons for Apple's stock's recent downside, it may be primarily a competitive threat rather than news about the ban as usage of Apple's product within China's governmental bodies only represents around 1.1% of the number of devices expected to be sold in China over the next twelve months. Sticking to the competition, Huawei started to lose market share in 2020, since the restrictions prevented it from marketing phones with 5G as it could only buy Snapdragon 8+ Gen 1 modems for its previous Mate 50 series from Qualcomm which meant that offering speeds of only 4G.
On the other hand, the new Mate 60 Pro not only can go up to 5G with HiSilicon-designed chips manufactured by SMIC (Semiconductor Manufacturing International Corporation), both from China as I detailed in a recent thesis, but also allows subscribers to make calls through satellites. Now, the only other service provider that currently allows such a feat is Apple with its iPhone 14 whereas Samsung will most likely include this feature in its Galaxy S24 next year.
Despite these advantages, I believe it will not be easy for Huawei to regain its position after losing momentum three years ago.
Record number of Switchers in China
The reason is that while the news about a potential iPhone ban may be unfounded, they have the merit of showing the popularity of the iPhone in Greater China. To this end, the number of switchers or those who already own an iPhone and want to "switch" to the latest model was exceptionally high, with the company even setting a record despite weak macroeconomic conditions and low consumer spending associated with the uneven post-COVID recovery. At the same time, competition remains strong for quality/price with the three Android-based manufacturers.
Therefore, this somehow shows the stickiness of the iOS ecosystem, which also includes an array of apps that users can buy and download smoothly from the App Store. This also explains why the global installed base grew to a new all-time high of 2 billion in the third quarter of 2023 (Q3) which ended in June, with the executives expecting switchers-led growth in China plus accelerated adoption in other emerging markets to continue driving growth in the balance of 2024.
Now, Huawei's equivalent of iOS is called HarmonyOS, and, after being barred from using Google's Android operating system in 2019, it developed its own operating system which has now captured about 10% of the market share in China according to data by Counterpoint Research. This is quite remarkable given that the market is characterized by aggressive competition with Android and iOS.
However, globally, HarmonyOS's market share is estimated at 2% which is not much compared to iOS's 17% and Android's 81%. In this case, Huawei can rely on a loyal customer base in China, a 330 million-strong device base, thousands of software developers who are already conversant with its products, as well as its position as a major provider of telecommunications equipment and services.
Thus, after being restricted from using Western technology, Huawei appears to have made a comeback, both with its smartphone and HarmonyOS, but, moving from this phase to rapidly gaining market share at the expense of Apple, is a completely different proposition. The reason is that in addition to normal market dynamics, constantly having a highly sophisticated piece of technology in your hands can alter your very behavior, as per the science of psychology.
Considering iOS's Stickiness
According to an article, holding our phones reminds us of "moments of intimacy", with the brain releasing chemical agents and love hormones which result in creating a "sense of belonging and attachment". The same article, building on the work of American psychologist William James, states that the smartphone could form part of our extended self, just like our homes, clothes, and even wife and children, or things which we value. This introduces the idea of stickiness, as depriving us of our phones leads to a feeling of great loss.
Thus, translating this thought process to the world of competition, the emergence of the Mate 60 will not lead to a sudden erosion in iPhone demand, especially given that these two are priced approximately the same. On the contrary, with an installed base of over 2 billion active devices in June 2023 compared to Huawei's 330 million, Apple is a larger smartphone services provider with related sales having grown by 8% YoY on a constant currency basis driven by more advertising, App Store, and music sales.
Furthermore, with the product mix tilting more toward services, the gross margin reached a record of 44.52%. Now better margins can potentially translate into better earnings, but, since Apple's forward P/E of 29.43x is already above the median for the IT sector by 12.25%, I have a Hold position, at the current price of around $178.5. This compares to a Buy the last time I covered the stock in September last year, and it has appreciated by over 20% since.
Services Revenues Mitigate Against Risks
I have adopted a cautious position this time, as volatility risks should persist, since people still have in mind how Chinese authorities imposed a ban on Micron (MU) for memory chips. Therefore, the stock could drop to the $174 support level, but, in case of a worst-case scenario where the Chinese government were to impose an additional tax or other restrictive measures on Apple to create momentum for Huawei's Mate 60, there could be a high degree of volatility which could send the shares to around $150, a previous support level, if investors feel like the company may lose market share.
Now, a 15.7% drop in the share price would result in a P/E of 24.8x (29.43x 0.843) or a lower valuation, signifying an opportunity to buy. Now, the reason to buy while facing the risks of market share loss is due to the fact that Software and Services revenue has progressed at a faster pace than the iPhone market share itself signifying that Apple is managing to squeeze more sales out of its device base. Furthermore, with the App Store operating in full compliance with Chinese rules and regulations, hosted in the country's data centers, and its smartphones manufactured there, it is difficult to see how a complete ban can be imposed on Apple's apps.
Moreover, the earnings estimate for the fiscal year 2024 is $6.58 which represents an improvement compared to the $6.06 expected for 2023 and also tends to show better profitability going forward.
Concluding with AI
In conclusion, this thesis has shown that only about four years after the start of restrictions, Huawei has the merit of having rapidly developed its ecosystem, but, in addition to competition and geopolitics factors, the iOS ecosystem is highly sticky. Thus, I have a Hold position which also takes into consideration that Mac and iPad sales regressed by 7% and 20% YoY respectively, in markets where there is strong competition while Apple still maintains a leading market share with its premium build quality.
Coming to the forthcoming tech event, in addition to the flashy iPhone models including advanced processors and high-resolution cameras which everyone will be eying for, the savvy investor should watch out for AI features that can ensure iOS's stickiness. These may not necessarily be high-profile ChatGPT-style products but simpler updates for Siri.
For this purpose, AI is now the new battleground where the real threat may emerge for Apple. As such, it has not really been able to take advantage of its devices being in the hands of customers throughout the world, possibly because of weakness in its AI-powered Siri, its voice-based virtual assistant for everything from iOS, macOS, watchOS, to tvOS. On the other hand, Huawei is actively carrying out tests on LLMs or large language models for its Celia voice assistant pertaining to the Mate 60 series models.