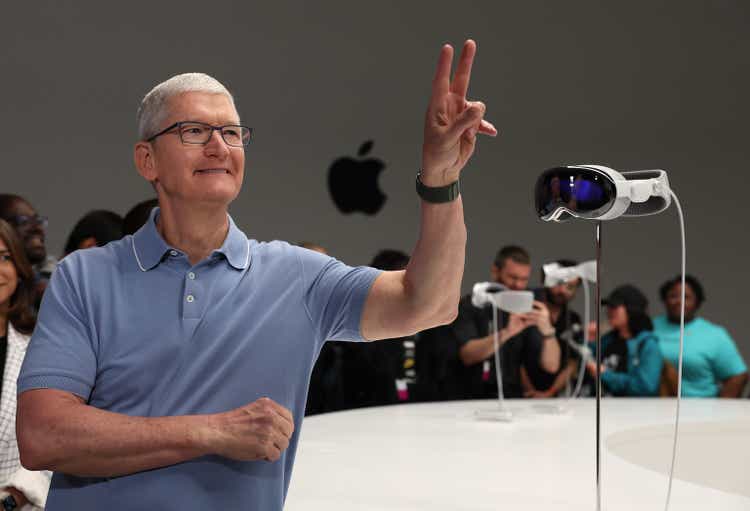 Apple (NASDAQ:AAPL) has not launched a new major product since the Apple Watch in 2015, but this is expected to change next year with the release of the Vision Pro headset. However, this product is likely to have a limited market and should not be enough to significantly boost Apple's revenues and earnings growth over the next few years.
As I've covered in previous articles, even though Apple is considered an innovative and leading technology company, it has not released a new major product since the Apple Watch back in 2015. While this was a setback for its growth over the past few years, as the company's products reached maturity, this is about to change with the expected release of its Vision Pro Virtual Reality/Augment Reality (VR/AR) product in the coming months.
Another potential new product that has had much speculation in recent years has been the Apple Car, as I've covered previously, but this product remains uncertain if it will be released to the market and when, thus in this article I analyze Apple's Vision Pro and its potential impact on the company's revenues and earnings, plus I also update Apple's investment case to see if it currently offers value for long-term investors or not.
Recent Performance
Apple's current market value is about $2.7 trillion, being the largest company worldwide by this measure. This is justified by the company's positive financial performance and strong brand value, being the world's most valuable brand, according to Interbrand, being valued at about $482 billion.
Its recent financial performance has also been good, even though the macroeconomic background has not been very supportive in recent quarters, showing that Apple has resilient operations and its premium positioning makes it less sensitive to economic cycles compared to other consumer companies.
Indeed, its annual revenues increased to a new all-time high in fiscal year (FY) 2022, which ends in September, to some $365 billion (up by 7.5% YoY). Its net income amounted to nearly $100 billion, also a new record, showing that Apple is a cash machine and its profitability is relatively high and stable, which is a great outcome for a company of its size.
Despite that, Apple is not completely immune to the macroeconomic background, as consumers have to adapt their spending habits during economic downturns or periods of high inflation, like the one experienced worldwide over the past couple of years. This has resulted in lower operating momentum over the past few quarters, which is not unexpected given the company's large size and revenues spread across the globe.
During the first nine months of FY 2023 (ended on July 1, 2023), Apple's revenues were $293.7 billion, a decrease of 3.4% YoY. This drop is mainly due to lower revenues from products (-5.8% YoY), while on the other hand its services segment reported a new all-time high. Apple's services net sales amounted to nearly $63 billion during 9M 2023, representing some 21.5% of total revenues.
Nevertheless, the majority of Apple's revenues continue to be generated by the sale of products, of which the iPhone continues to be the most important one. During 9M 2023, iPhone's net sales amounted to $156.8 billion, or 53.4% of total revenue. Other products, such as the iPad, Mac, and others have much smaller weight, showing that Apple's product diversification is not that great.
Therefore, the launch of new products is critical for Apple to maintain a strong growth path going forward, as the smartphone market can be considered mature across the globe, even though there is still some untapped potential in emerging markets, but mainly for cheaper phones rather than being a big opportunity for Apple.
Considering the company's huge success in the past and strong brand, when it launches a new product it's usually expected to bring something really new to the market, and distinctive to other offerings already available. This sets the bar quite high for the company, and a mediocre product could ruin its brand perception and premium position, something that Apple is not willing to risk.
Thus, while a new VR/AR product from Apple has been expected for some time, only a few months ago was this formally presented and will be launched in the coming months, as Apple is looking for it to be a successful product and positively impact its revenues and earnings in a meaningful way.
Apple Vision Pro
Apple is putting a lot of hopes on its upcoming virtual reality/augmented reality (VR/AR) headset, even though this is not something particularly disruptive given that VR/AR headsets have been used for many years, especially in gaming.
Beyond gaming, Meta Platforms (META) has also spent considerable money in its VR headset, offering the Oculus Quest VR headset, but which so far has not been a huge success. According to some sources, Meta has been able to sell more than 20 million units, but retention is not particularly good, and this has not become a mainstream product yet.
What Apple is trying to achieve with the Vision Pro headset is to offer a product that could, eventually, replace the use of other devices, such as PC, tablets, and even to some extent smartphones. According to some reviews who were available to try the headset, Apple's Vision Pro headset is quite good and better than current offerings in the marketplace.
However, according to Grand View Research, the total addressable market (TAM) for VR headsets across the globe amounted to nearly $60 billion in 2022, and is expected to grow at a compounded annual growth rate (CAGR) of 27.5% from 2023 to 2030. This means the market for VR headsets is not that big right now, but its growth prospects are strong, which to a large extent rest on Apple's Vision Pro success and ability to have much higher adoption from consumers compared to current VR offerings.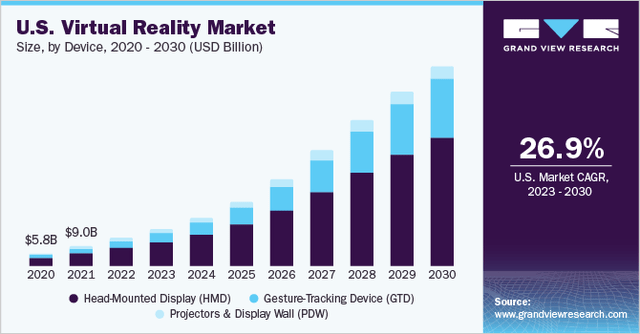 Apple's Vision Pro is expected to be released in early 2024, which means its market share of the VR market is likely to be small at the beginning, but if successful, it can potentially grab a good part of the VR market.
For instance, assuming that Apple Vision Pro is successful like the iPhone, this would mean a market share of about 28%. Assuming that Apple can reach this quite rapidly in three years, this would represent some $44 billion in net sales by 2026. Given that current consensus expects Apple to generate about $469 billion in FY 2026, Vision Pro net sales would represent some 9.5% of Apple's total net sales.
However, this is an optimistic scenario in my opinion, given that Apple's Vision Pro headset has a much higher price tag compared to the iPhone, and it's not possible to use all day like a smartphone. Indeed, while Apple's Vision Pro seems to be a really good product, the cost of about $3,500 is quite expensive in absolute terms, and also when compared to Oculus 3's price tag of $500 per unit.
Moreover, Apple's Vision Pro battery life of around two hours is quite limited, thus the VR headset is not expected to be used intensively, which means consumers still need a tablet or smartphone for daily use and the Vision Pro headset will be more a niche product to use.
Therefore, while it's quite uncertain how many units Apple will be able to sell over the coming years, assuming a more conservative scenario (10% market share for instance), this would generate $16 billion in net sales by 2026. This would represent only 3.6% of total revenue expected by FY 2026, and would not be very significant for a huge company like Apple.
Conclusion
Apple's large size makes it quite difficult for new products to have a big impact on its revenue and earnings growth over the next few years, with the global macroeconomic backdrop being the most important factor for its growth prospects in the near term.
Even though the upcoming Vision Pro VR/AR headset can be an important product to increase the company's growth prospects, it's not likely to be a game changer, even considering an optimistic scenario. This means the Vision Pro is most likely to be a niche product and will not impact the company's fundamentals very much.
Despite this background and the company's somewhat sluggish performance in recent quarters, its valuation is not particularly cheap considering that Apple is currently trading at close to 27x forward earnings, at a premium to its own historical valuation over the past five years (23x forward earnings). While Apple is a great company and has very good fundamentals, its large size and limited growth prospects should lead to a lower valuation, thus its shares aren't particularly interesting right now for long-term investors.