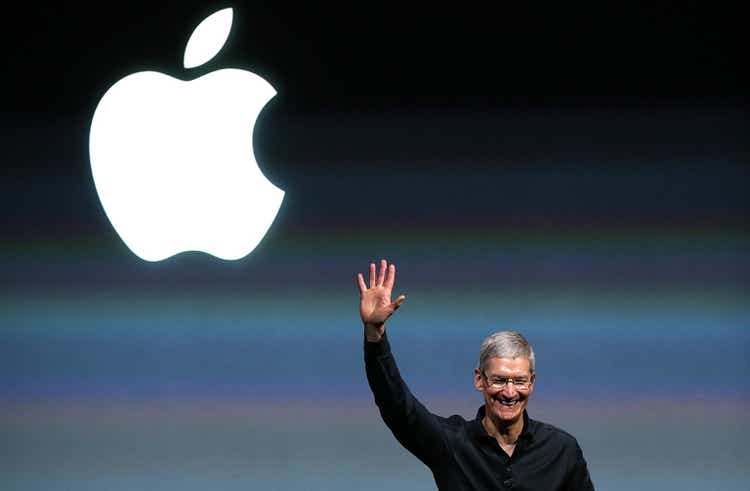 Recent rumors of Apple (NASDAQ:AAPL) developing its own large language model of AI, or generative AI, caused its stock price to jump. Generative AI is an artificial intelligence class that can create new content, such as text, images, software code, and videos. It does this by learning from a large dataset of existing content and then using that data to generate new, similar content. In the simplest sense, generative AI can "generate" text, speech, images, music, video, and software code.
Apple hasn't announced any generative AI products or capabilities, but it is working aggressively. Some have coined the term for its development as "Apple GPT," I'll use this term as a proxy to discuss it. The term GPT comes from the popular generative AI application Chat GPT and stands for Generative Pre-trained Transformer.
So far, little more than rumors have been disclosed; however, with the impact of generative AI, it is an obvious opportunity for Apple. In this article, I'll analyze the potential for generative AI across Apple's product platforms, its advantages in applying this new technology, and potential investment implications. This is not based on any knowledge of Apple's strategy but on my experience in strategy consulting for technology companies, many of which followed some of the strategy concepts introduced in my books and articles.
While Apple is not at the forefront of generative AI, it has the expertise in AI and technical talent to catch up. Most importantly, it has an outstanding platform for incorporating generative AI.
Potential Ways Apple Could Use Apple GPT
Apple can broadly integrate Apple GPT across all the products, applications, and services in its platform and ecosystem. Let's look at some of the potential.
It can add Apple GPT to Safari.
Safari is a successful browser, but it is not the most popular. Along with Microsoft Edge, it is in second place to Google Chrome. Safari is the default browser on Apple devices, such as the iPhone, iPad, and Mac, which give it an advantage over other browsers.
Google (GOOG) Bard and Microsoft's (MSFT) Bing Chat bring generative AI to their browsers. Apple will need to do the same with Apple GPT for Safari. Will Apple be able to introduce a superior capability to increase browser share or keep it competitive? Its ability to provide a more secure generative technology could be a differentiator.
Apple GPT could make dramatic improvements to Siri.
Just like the previous example, this is also obvious. Siri has been getting more powerful, but adding Chat GPT-like capabilities would be a giant leap. This would enable intelligent dialog with Siri rather than just a one-way, one-time request. Here is an example:
"Hey Siri, we want to go to dinner and a movie tonight. What's playing nearby? OK. What's the most popular? OK, that sounds good. We want to go to dinner after the movie, what show should we go to? Yes, it does depend on where we want to go to dinner, so could you give me some recommendations? OK, we want your third suggestion. Do you know if we can get reservations after the movie? OK, please make that reservation on Open Table based on when the movie would end and the time it would take to get there. OK, please reserve our usual seating on Fandango for the movie if available. Thank you.
As you can see, generative Ai incorporated into Siri will provide an entirely new experience. While Alexa will also be able to adopt this technology, it most likely won't be able to integrate with iPhone apps.
It could create a standalone Apple GPT app.
Apple could also create a standalone GPT app on all its devices to isolate the value of generative AI. This app could build on Apple's commitment to privacy and data security. It strictly controls the privacy of user information and will be expected to continue to do this in any Apple GPT application.
If Apple GPT is introduced as a standalone app, most likely, Apple won't charge for it.
It can add advanced capabilities to emails and messages.
Apple has a strong position in email and texting using its iPhone, iPad, and Macs. There are several exciting opportunities to incorporate generative AI into these products.
1. Integrated editing of emails and texts.
There are already add-on products with AI that do this, such as Grammarly, which I use all the time. A wholly integrated capability could displace Grammarly, something Apple regularly does. Perhaps it could acquire Grammarly to get a head start, but it will likely be costly. Microsoft is already adding this to its email.
2. Automatically writing initial drafts of emails and text responses.
This is an increasingly widespread use of ChatGPT and its applications. Apple GPT can be integrated directly into mail and messages to simplify this. It could read an email selected and then propose a response.
3. Scan emails on request to identify emails you may want to respond to and propose those responses.
Everyone could use this AI tool. You frequently need to remember an email that requires a response, and this would make you much more productive. Apple has all the emails and texts on your computer or device and can scan them intelligently when requested using a date range, subject, or source.
4. It could automatically add to-do and calendar items from your email while at it.
Update my to-do list by reviewing my emails and interpreting tasks I need to do. It's easier than adding them individually. While some AI capabilities are already in Calendar, these could be more advanced.
It can add Generative AI to Apple's iWork applications.
Microsoft has introduced generative AI in 365 Copilot for its Office applications, and Apple will most likely do the same for its iWork applications Pages, Numbers, and Keynote. While the obvious use is editing, there are more advanced capabilities. Here are Microsoft's highlights of how this can be used:
With Copilot in Word, you can jump-start the creative process so you never start with a blank slate again. Copilot gives you a first draft to edit and iterate on – saving hours in writing, sourcing, and editing time. Sometimes Copilot will be right, other times usefully wrong – but it will always put you further ahead. You're always in control as the author, driving your unique ideas forward, prompting Copilot to shorten, rewrite or give feedback.
Copilot in PowerPoint helps you create beautiful presentations with a simple prompt, adding relevant content from a document you made last week or last year.
And with Copilot in Excel, you can analyze trends and create professional-looking data visualizations in seconds.
Microsoft plans to monetize 365 Copilot, expecting a significant revenue increase. It announced pricing at $30 per user per month for Microsoft 365 E3, E5, Business Standard, and Business Premium customers.
Generative AI will also be incorporated into Google Workspace applications like Gmail, Docs, and Sheets.
Apple's iWork product suite is a collection of productivity apps available for macOS, iPadOS, and iOS. The suite includes Pages, Numbers, and Keynote. A crucial distinction is that Apple's iWork applications are free to Mac, iPad, and iPhone customers, so it's unclear whether Apple will charge for the additional generative AI capabilities.
It can increase capabilities across a broad range of Apple products and applications.
Apple provides a wide range of free apps on iOS, in addition to Safari, Mail, Siri, and Messages already mentioned. These include Photos, Maps, Calendars, Contacts, Notes, Reminders, Home, News, Weather, Wallet, Apple Pay, Notifications, and Health. These apps are all free to download and use, and they are available on all iOS devices.
There will be almost unlimited opportunities for Apple to enhance these apps with generative AI. Here are a few examples:
Chat to help users better select movies, music, or news.
Suggest stops along a trip in Maps for food or fuel based on experience.
Automatically extract recommended reminders from email and messages
More intelligently suggest calendar items.
Automatically clean up unused contacts, music, etc.
Hold in-depth conversations on health using data collected in the Health app.
While adding these new capabilities won't directly generate additional revenue for Apple, it will continue to extend the advantages of these free apps making IOS devices even more attractive.
It can add generative AI to its content services.
Apple's content services are lucrative, and I expect it to incorporate generative AI. In its 2022 Q1 earnings call, Apple disclosed over 700 million paid subscriptions across its content services portfolio. This includes subscriptions to Apple Music, Apple TV+, Apple Arcade, Apple News+, and Apple Fitness+. These content services are available on all Apple devices and through the internet.
Apple is already integrating AI into these services to help users select and organize content intelligently. Generative AI may provide a broader range of capabilities for these services that will continue to attach users to the Apple platform.
Adding paid generative AI apps from the app store should increase revenue for Apple.
Hundreds of new specialized applications are being developed based on ChatGPT, with most of these offered online through websites. Eventually, the more popular ones will be offered as paid apps in the app store and provide Apple with a new source of app store revenue. Most likely, these will incorporate Apple's GPT instead of ChatGPT.
Generative AI tools will be supplied to app developers.
Generative AI is revolutionizing software development because it can generate entire software applications on request. Look for Apple to take advantage of this in its application development tools. Apple has a vast suite of tools in its software developer kit (SDK), including Xcode, Swift, Metal, Machine Learning, and Swift Playgrounds for students learning to develop software. Expect Apple to incorporate the ability to generate software automatically in these development tools and further improve its lock on application development.
Apple can significantly improve customer support using Apple GPT.
Apple excels in many areas, but one aspect that could dramatically improve is its post-sales customer support. The complexity of Apple products can pose challenges for users, especially when trying to utilize new capabilities that may vary depending on the product and IOS versions they have, along with specific settings.
Most people search for help on YouTube videos to learn how to use certain features. Apple's unique challenge in providing efficient support stems from its large customer base, with over a billion active devices, millions of applications, and a wide range of IOS and hardware combinations. Employing a massive customer support staff to handle such diverse queries would be impractical and costly.
By implementing generative AI, users could inquire with Apple GPT support about using specific features, and the system could analyze the information about their device model, IOS version, and relevant settings to provide accurate and precise responses in a conversational format. This would mark a significant upgrade for Apple's customer support capabilities and is now within reach with generative AI.
This customer support solution could even be a paid service for Apple.
Apple's Advantages in Introducing Apple GPT
Apple has some important advantages in applying Apple GPT, its generative AI technology.
1. It has deep and extensive expertise in AI.
For many years, Apple has been developing and implementing AI broadly across its entire platform of products, applications, and services. It invests more than $26 billion in R&D annually, and I expect it will invest billions in AI.
While generative AI is a separate class of AI, many of these skills and technologies are similar. Apple has already started leveraging this to develop Apple GPT.
2. It can uniquely offer privacy in generative AI.
There are many concerns about privacy in generative AI. People wonder if the information they provide will become available for search by others or used to target them for advertising.
Apple's integrated hardware/software platform gives it a unique advantage in implementing data privacy. For example, it encrypts all credit card information in Apple Pay using a proprietary firmware encryption capability. Generative AI currently needs to run on powerful computers in the cloud and is unlikely to be executed on a device such as an iPhone for a long time. However, Apple IOS can encrypt all generative AI requests and decrypt them when cloud computing servers process them.
3. Apple has a unique platform strategy.
Apple's platform strategy has been the most critical factor in its success over the last two decades. Its control over the hardware device, operating systems, and applications gives it unique advantages. It can design firmware to support applications and provide operating system functions to support applications. For example, it could provide preprocessing of requests to Apple GPT to more correctly edit the wording in the request or parse the request better to make it more efficient to process on the servers in the cloud.
Apple has an extensive range of products, applications, operating system software, development tools, and content services that are all part of a common platform. It can develop Apple GPT and then integrate it into all its applications, systems, services, and even the apps it sells in the app store. You can't underestimate the importance of this leverage to Apple. It can invest a substantial amount and get an extensive range of benefits that no one else can.
Conclusion
As you can see, the possibilities for Apple to apply Apple GPT, or whatever its generative IA technology will be called, are extensive. Because of its broad range of products, software, and services, it can leverage this emerging technology better than anyone else.
However, I don't expect any Apple GPT announcements for a while. Apple traditionally follows a successful strategy of letting others pioneer new technology and then bring the latest technology to market better than others. Apple also follows a well-established product introduction cadence with its new software announced in June and new devices in September. I expect Apple to incorporate generative AI as the primary enhancement to its applications and operating systems in June 2024.
Tim Cook discussed AI during his May earnings conference call, indicating that Apple will be adding AI to more of its products, but, he said, on a "very thoughtful basis." Expect Apple to be deliberate and thorough instead of rushing anything to market.
What will be the benefits of Apple GPT to Apple and its investors? While there may be some incremental revenue, most of the benefits of generative AI for Apple are further securing the dominance of its platform and ecosystem. Microsoft plans to charge for Copilot, which could generate billions in incremental revenue, depending on estimates. Still, Apple's strategy has always been to incorporate more free applications and functionality into its ecosystem to make a superior complete product offering that others can't compete with. I expect generative AI will further that advantage.
Here is another interesting thought. How much additional revenue could Apple generate if it ever decided to charge for its free apps?
Overall, Apple GPT will provide broad improvements for Apple that should be reflected in its continuing barriers to entry for competitors.