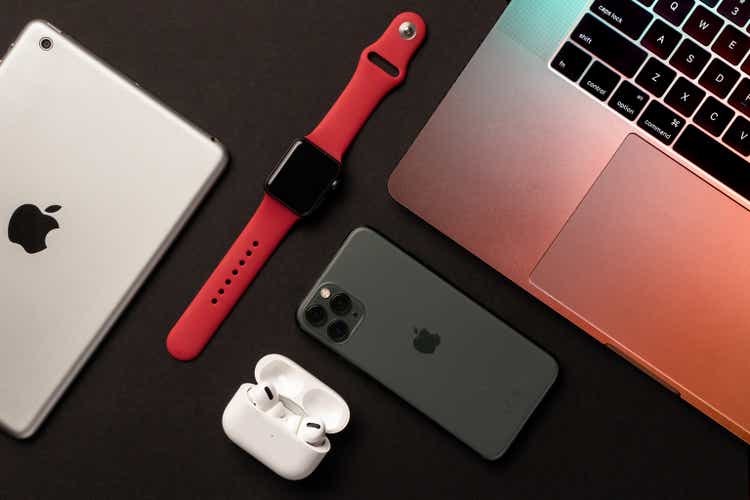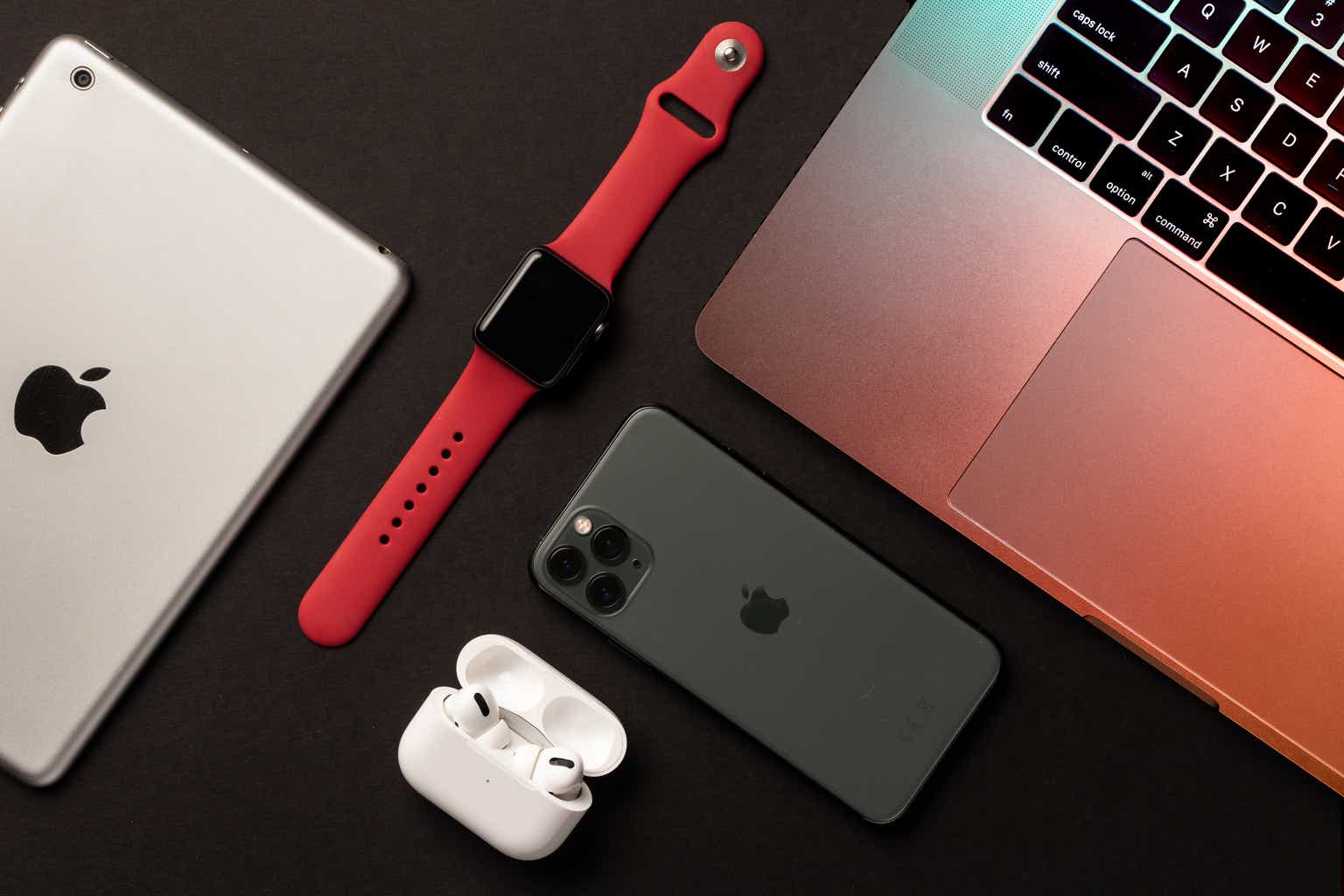 The Biggest Home Field Advantage In Tech
Less than a year after the first iPhone was released in 2007, Apple (NASDAQ:AAPL) bought PA Semiconductor, a small fabless chip design company working on low power mobile chips, for $278 million. What they really wanted was their 150 chip designers, most notably Jim Keller, AKA "The Forrest Gump of Semiconductors." Keller has seemingly been around for every big moment in chips for the last couple of decades.
At first, everyone, including me, was skeptical that Apple could just materialize a chip design unit out of thin air and compete with Samsung and Qualcomm (QCOM). When the first chip, the A4, came out in 2011, we all realized we were very wrong. We got more wrong every year after that. Today, for consumer devices, no one makes better chips, and it's not particularly close. I'm still a little amazed they pulled it off.
Part of their advantage is that because of their scale, they get first crack at TSMC's (TSM) newest process node, and have it all to themselves for the first year or so.
Why all this matters:
Apple devices lead in performance and battery life. This is especially evident now in laptops and smartwatches.
They get to build the exact chip they want for each device. The device, the chip that runs it are developed in conjunction with the software that runs on it.
It all leads to a better user experience, which is at the top of the pyramid of things Apple cares about.
What you see in Apple's chip designs are their priorities for that user experience. Let's look at what they just announced.
The A17 Pro
The A17 Pro is only going into the iPhone Pro models. This follows the pattern of the last few years of doing more to distinguish the Pro models from plain vanilla iPhone. The downside of this strategy is that they dominate TSM's new 3 nanometer node for a shorter period, and let others move in behind them sooner. But this is the first mass produced 3 nanometer chip from TSM, and the only one for a little while.
What that means is a much higher transistor density than the previous 4 nanometer chip, the A16, about a 60%-70% jump. Smaller transistors, now just a few silicon atoms wide, means better performance and less power consumption, two big goals. Apple works closely with TSM to tune that to what their priorities are.
Here's what's in the "system on a chip" [SoC]:
CPU- This starts with four efficiency cores that are tuned for low power consumption. But they are performant enough to handle most everything you do on your phone. There are two performance cores that get called in when needed for more demanding tasks. Priority 1: high performance with efficient power consumption.
GPU- This handles graphics. Priority 2: a great display. Priority 3: a great mobile gaming device.
Neural Engine- This is there for much lower power consumption for AI training and inference than the GPU. Priority 4: on-device AI for privacy, with low power consumption.
The photo-audio-video complex- After battery life and display, Apple thinks the biggest selling point on iPhone is the camera system. The digital signal processor, along with the Neural Engine, are key to Apple's "computational photography" pipeline. The complex also has hardware codecs for audio and video, greatly reducing power consumption when recording or consuming media. Priority 5: the best phone camera. Priority 6: root out battery killers that people use frequently.
The security complex- A hardware keychain for encryption keys, and cryptography accelerators to speed up encryption/decryption, and reduce power use. Priority 7: Security and privacy without draining the battery.
All those priorities on one slice of silicon.
So what has changed since last year?
They have such a lead in the performance of their CPU cores that they are focusing on using those smaller transistors for reducing power requirements and increasing battery life. Apple is a big believer that the most important feature of a mobile device is battery life.
The same cannot be said for the GPU in the A17. Apple really blew it out and this is a full blown gaming GPU now with hardware ray tracing and a slew of new shaders. This was a big focus of the A17 presentation. I'm guessing the next-generation M3 series chips for Mac are going to take a similar leap. iPhone is the biggest mobile gaming platform, and they'd like to transfer that to Mac. Along with the Game Porting Toolkit on Mac just announced in June, they are making a big push on gaming.
The Neural Engine also sounds a lot more powerful. Combining the GPUs and the Neural Engine, some of the medium-sized language models out there like Facebook's (META) Llama 2 will be able to run pretty well.
The only addition this year to the photo-audio-video complex is the AV1 codec. This is a free open source codec that has replaced MP4 on most streaming services because it is better, and also did I mention free? Streaming video will use less battery now.
No changes to the security complex.
Apple has such a wide lead over other smartphone chips now, no one even bothers to talk about it anymore. Qualcomm may be able to at least catch up to them with their new CPUs in Snapdragon 8 Gen 3 to debut next month, but the rest of the chip will still lag. Google (GOOG) Pixel's equivalent of the Neural Engine is competitive, but the rest of the chip isn't.
This all translates into more features they can enable with software, and a better overall user experience, which is at the top of the pyramid of things Apple cares about.
The S9
This is the "system in package" that runs Watch 9 and Ultra 2. This was an even bigger leap. Apple has manufactured three generations of the S-series on TSM's 7 nanometer process node, which first premiered on the A12 chip for iPhone in 2018. Maybe it was good enough for what they wanted, and it kept costs down.
I'm not sure, but S9 may leapfrog 5 nanometer for 4 nanometer. This represented a 60% jump in transistor density. Of course this is a much smaller chip than the A17, and has much less on it. But they added a lot to it versus last year's S8.
A much faster CPU, probably based on the A15 or A16 efficiency cores, which are a big upgrade from the cores based around A13 in last year's model. A much smoother overall experience
No details on the GPU, except "30% faster" than the S8. I'm guessing the cores are based on A16. Again, a smoother user experience with more fluid animations.
A quarter of the A16 or A15 Neural Engine — four cores — where there was none before. This enables the headline feature for Watch 9 — the finger double-tap as an action trigger for one-handed operation.
This gesture matches the finger-tap gesture we saw in the Vision Pro demo in June. I expect the devices to get integrated at some point.
The Neural Engine also enables on-device voice recognition. This makes for private Siri interactions, and allowed Apple to add the Health app to Siri on Watch (Health data always stays on device unless shared by the user).
There is nothing even close to Apple Watch. You can certainly find a smartwatch that is cheaper. But can those companies run promotional videos featuring some of the lives saved by Watch?
It's easy to get cynical about this stuff, but "Buy Apple Watch and save your life" is pretty good marketing, and actually a real thing. Watch does so many things that supposed competition doesn't even fathom, and the reason is Apple Silicon. There is nothing approaching the S-series out there, and the S9 represents a big leap, widening that gulf, even bigger than the A-series advantage.
TSM Supply Issues?
Within an hour of pre-sales beginning for iPhone 15, the Pro models were backordered into October in every market where I looked. The Pro Max is now backordered into November. None of the nine Apple Stores within 10 miles of my house in Los Angeles have them. iPhone 15 and 15 Plus are still available. Possibilities:
Demand: Apple did not anticipate how much demand there would be for the Pro models versus plain vanilla iPhone.
Supply: The A17 Pro chip in the Pro models comes from TSM's new 3 nanometer line, and they are a little slow ramping that.
It may be both. Last week, analysts were out with their pre-sales estimates, and they are talking about a big bump in demand over last year's limp start to the iPhone cycle. They called out the Pro and Pro Max, and Dan Ives of Wedbush put the average sales price at about $925, exceptionally high.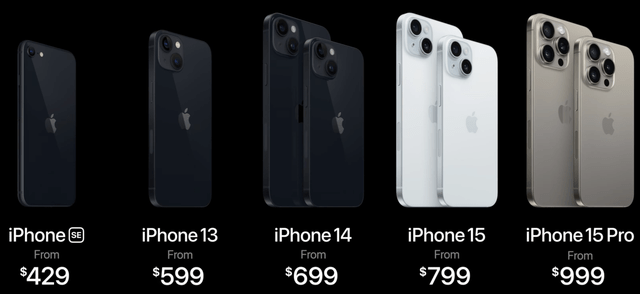 So demand is probably part of it. But supply is also part of it I think.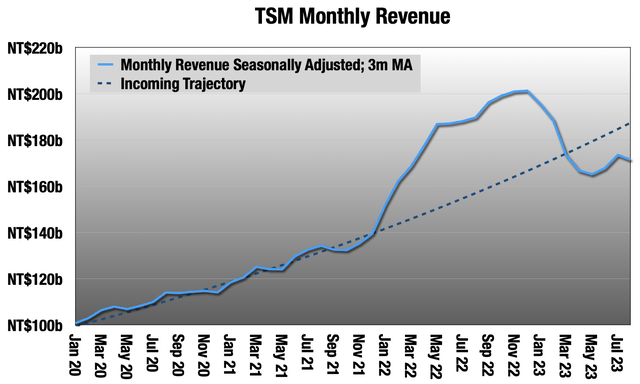 Once that dip bottomed in May, I thought TSM would start closing the gap with the incoming trajectory (dashed line), mid-teens growth, and at first it did. But August revenue is a crucial month because it kicks off the iPhone cycle. TSM's strongest months are usually August through November to supply the iPhone launch into the holidays.
That August dip is bad news for both Apple and TSM; revenue doesn't get booked for pre-orders, and we may be headed for another holiday season where Apple can't fill all the orders they get. Last year it was because of Chinese assembly factories shut down for COVID. It looks to me like this is a strong start to the iPhone cycle on the demand side, but TSM is slow getting the most expensive and highest margin stuff out the door. There may be additional supply issues with Pro Max, like the display.
TSM now has dual supply issues — advanced packaging for Nvidia (NVDA) GPUs, and a slow ramp on 3 nanometer for Apple. There also may be demand issues from other customers.
The Upshot
I often say that user experience is at the top of the pyramid of things that Apple cares about, but the base of that pyramid is Apple Silicon, and the operating systems: iOS, watchOS, macOS, iPadOS, and tvOS. At their root, Apple Silicon chips share a lot, with mix-and-match parts, and the operating systems have many of the same parts under the hood. This foundation is how they can keep adding products that lead their category. iPad in 2011. Watch in 2015. Apple Silicon Macs in 2020. Vision Pro in 2024.
That foundation, and many other reasons, are why I remain a shareholder for the foreseeable future, even in limp years like fiscal 2023, ending this month.
Which brings us to Q4. Q4 is the oddest quarter in Apple's seasonal calendar. It is generally pretty slow except for back-to-school Macs and iPads. But they announce iPhone in mid-September and start booking revenue later in the month. These last days of September are the highest revenue days of the year. This year it started on September 22, so there will be nine days of new iPhone sales in the Q4 2023 report upcoming. It also gives a decent idea of what demand is like going into fiscal 2024.
I think Apple and all the smartphone makers will continue to pay the cyclical price for the strong pandemic demand in Apple's fiscal 2021 and 2022.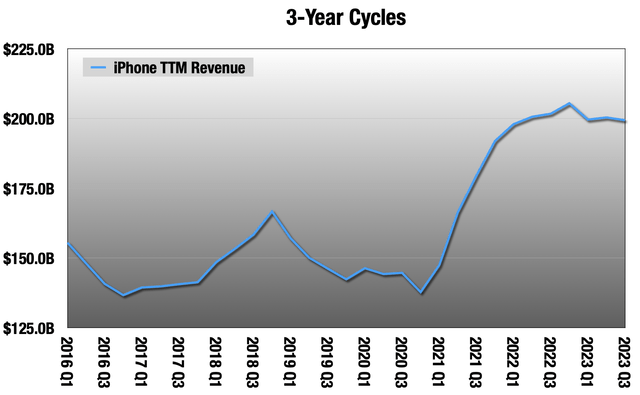 Apple sold a lot of phones those years, and part of that is gained market share, especially among young people. But those fiscal 2021 purchasers, with iPhone 12 or 12 Pro, have a 3-year old phone this year. In the US, they can trade that in to either AT&T (T) or T-Mobile (TMUS) and get a free replacement in exchange for a multi-year contract — 36 months for AT&T and 24 months for T-Mobile.
Had it not been for the fact that fiscal 2022 was up from 2021 in iPhone, not down as we had come to expect after the first year of a 3-year cycle, I would be predicting that fiscal 2024 was going to be an all-timer for Apple. But 2022 complicates that. I suspect we will see some moderate growth in fiscal 2024 from those 2021 upgraders, but not what we have come to expect in the first year of a cycle.
In any event, Q4 results will give us a good clue, but that will also be affected by those backordered iPhone Pros, not shipping until Q1 2024.