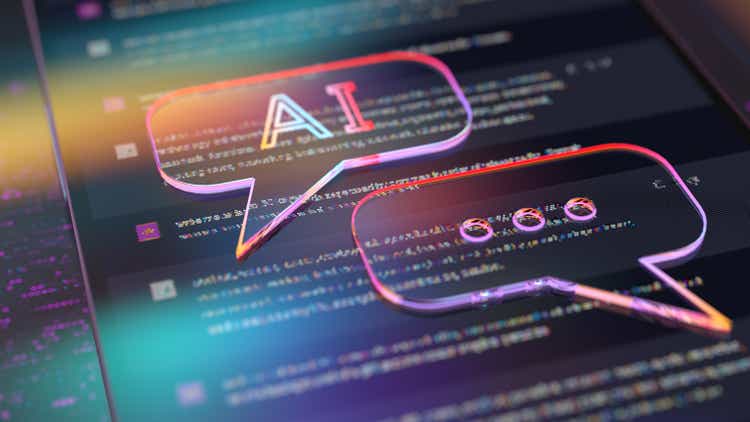 A constant negative thesis with Apple Inc. (NASDAQ:AAPL) these days is that it is a business behind on new product development. The latest news of the tech giant entering the generative artificial intelligence ("AI") race appears to be another sign of Apple being behind the leaders in another product category. My investment thesis remains Bearish on the stock while trading near all-time highs.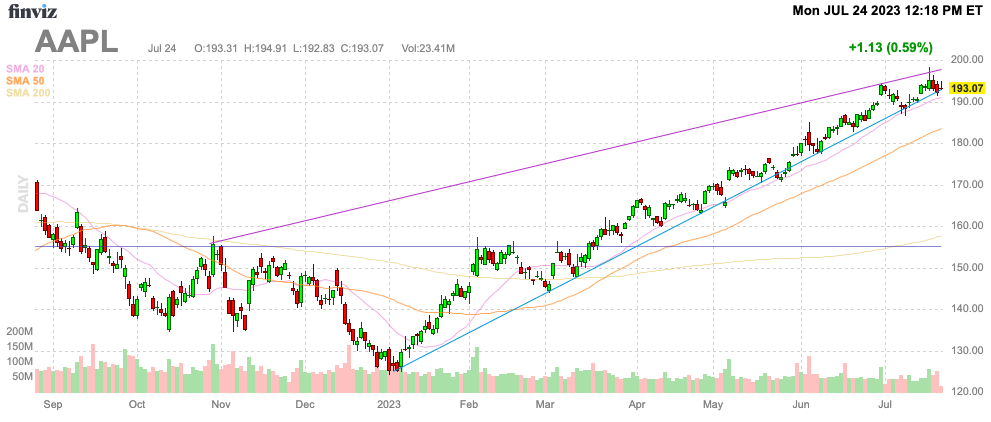 Product Development Slipping
Last week, Bloomberg reported some big developments for Apple in the AI space. The company has apparently launched an internal AI chatbot service for employees to test out.
Apple is already far behind Microsoft Corporation (MSFT) with its huge investment in ChatGPT owner OpenAI, and also Alphabet/Google (GOOG, GOOGL) with a long history of AI investments and the Bard product. Both companies have huge plans to tie generative AI into internet search products for future monetization.
Apple is far more focused on product sales via iPhones and Macs with the majority of software development for operating these products. The tech giant utilizes Google search on iPhones and doesn't have a current system for monetizing generative AI.
The reports suggest Apple is working on a product for release next year and could include a Siri-related AI product. Though, the voice assistant product has long lagged other options from tech giants since launching in 2011.
Another issue facing the tech giant is that Apple has to utilize technology from Google and Google Cloud and possibly AWS from Amazon (AMZN). Both Microsoft and Google benefit from having internal cloud services reducing the need for a costly external service. Bing AI and Bard will automatically have a cost advantage over anything Apple develops.
The news follows Apple constantly delaying the AR/VR device (detailed in previous research) with the Vision Pro now launched with a release date in early 2024. The tech giant still hasn't announced an official release date, though.
The reason the last addition to AI is a concern is the enormous opportunity ahead. Deepwater Asset Management ran a Twitter poll where nearly 70% of the respondents would pay at least $100 a year for a personal AI software package.
Of course, the difference between influential investors following an analyst and the average public could skew this poll on Twitter. If the poll is correct, Doug Clinton estimates a $1.25 trillion opportunity is just the U.S. and EU markets alone for the personal AI space.
The numbers are far too high using any amounts above $25/month. Microsoft just launched a Chat AI product charging customers $30/month and that amount appears excessive for business customers already paying similar amounts for standard business applications.
The problem for Apple is not even having a hat in the ring while Microsoft has already launched both an AI product and an AI chat incorporated into search. Even Google already has Bard for collaboration with other tools.
iPhone Reliance
For many reasons, Apple is still very reliant on the iPhone to move the needle for the business. The smartphone accounts for over $200 billion in annual revenues.
The tech giant being late to AI chat and running into delay after delay with the AR/VR device launch leaves Apple still reliant on this product first launched back in 2009x.
While Apple may have a new AI product in 2024, the company has apparently already run into a snag with the iPhone 15 Pro and Pro Max. The tech giant shifted more customers towards the larger screen Pro models with a move to not update the 14 Plus with the newest chip and other features.
Any issue with the screen for the iPhone Pros would be very detrimental to the business. The FQ1'23 smartphone holiday market was very tilted towards the Pro with 43% of units sold versus only 34% for the lower priced base model and virtually all of the larger screens shifted towards the Pro models.
Apple is already struggling to grow with revenues forecast to dip again in FQ3 leading to an annual sales dip in FY23 of 2.4%. Analysts forecast sales to return to growth rates in the 7% to 8% range in the next few years, but revenue targets have slipped over the last couple of years. Investors should worry about expectations to reach $410 billion in FY24 and $440 billion in FY25 doesn't ultimately come to fruition.
With Apple playing catch up in so many crucial growth areas, the stock remains unappealing at 32x FY23 EPS targets. Apple didn't rally on the AI chat news, as the market probably correctly identified the company as being so far behind Microsoft and OpenAI in generative AI to even speculate on upside from a related product release next year.
Takeaway
The key investor takeaway is that Apple continues to play catch up in several key product categories. The market is paying up for the stock on speculation the tech giant will ultimately build a better product like in the past, but Apple hasn't always competed with companies with equal resources in other categories.
Investors should continue using the current all-time highs as an opportunity to exit Apple at a premium valuation.