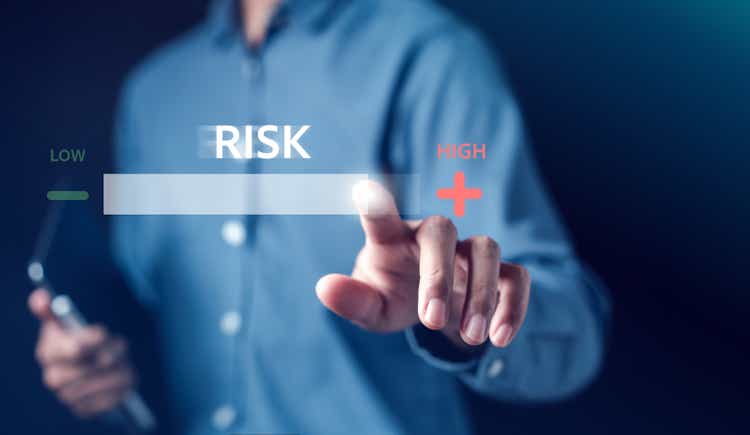 Next week, technology giant Apple (NASDAQ:AAPL) will hold its annual September product launch event. This is the day where the newest set of iPhones will be shown off, helping to generate a good portion of the company's fiscal 2024 revenues. While there has been some excitement building recently, a returning challenger in China could limit Apple's potential growth.
Last week, Huawei surprised the smartphone market with the launch of its Mate 60 device. The company has been hampered by US sanctions in recent years, hurting its ability to remain competitive in the 5G phone space. The newest product release shows that some of those headwinds may now be in the rear view mirror, allowing the company to attempt a major comeback. Sales of the Mate 60 in the first 5 days were reportedly around 800 thousand units, up substantially from the previous generation's 500 thousand.
Back in 2019, Huawei sold over 140 million smartphones in China, giving the company a staggering 38.4% market share. The pandemic started a bit of a downfall, and the US embargo added severe pain. In Q2 of this year, IDC reported that Huawei's market share was down to just 13% in its home country, or quarterly unit sales of just 8.5 million units. Some of these market share losses could soon reverse if it is shown that the Mate 60 line is fairly competitive, and if Huawei can get enough supply to drive strong sales. Just getting back to being the Chinese sales leader, which still would be only half of the market share it had in 2019, could mean over 10 million more phone sales a year.
This news out of China comes at a very important time for Apple. Not only is the US technology device giant getting ready for its own yearly launch, but the all-important holiday quarter is nearly upon us. In the US, there are questions about consumer spending this year with student loan repayments about to restart, which could reduce total spending by billions of dollars per month. A few weeks ago, I talked about investors needing a potential reset of Apple expectations. As the graphic below shows, analysts are still expecting a bit of revenue growth acceleration in the coming quarters.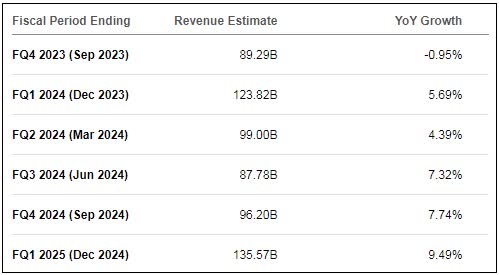 Apple will see some revenue tailwinds in calendar 2024 from the launch of its expensive Vision Pro headset. In the December 2023 period, the company faces a lower year ago quarter bar from the China coronavirus supply impact of iPhones. However, this year's quarter is the usual 13 week period, where last year's holiday period had 14 weeks due to how the calendar fell, which offset some of those revenue losses.
Another item that could potentially hurt Apple's results in the short term is the strength of the US Dollar. The greenback, when looking at the Dollar Currency Index, is up more than 2% since Apple's earnings report in early August. While the company may still have some foreign exchange hedges in place, further strength in the dollar could have a negative revenue impact in the billions of dollars as we've seen in the past.
As for Apple shares, I continue to rate them as a long term hold. In the short term, there is the possibility for shares to rally towards their all-time high if we get some excitement regarding next week's iPhone launch. The potential for the Fed to not raise rates at this month's meeting could also help equity markets as a whole. However, I'm a little more cautious once we get into the fall given the US student loan repayment risk for consumer spending as well as this new potential challenge from Huawei. As I stated in my previous article linked above, I'm a little bullish below the stock's 100-day moving average, which is about $8 below current levels as seen in the chart below.
In the end, Apple faces a new China risk as it gets ready for its annual iPhone launch event next week. Huawei surprised the market with the launch of its Mate 60 smartphone series, as it apparently now has the chips needed for a mass market 5G phone. A return of the once dominant Chinese player could limit Apple's iPhone sales in a key market just as analysts are expecting revenue growth to accelerate. While I still believe in the long term future of Apple, investors need to digest this latest potential risk as we get ready for the all-important holiday quarter.