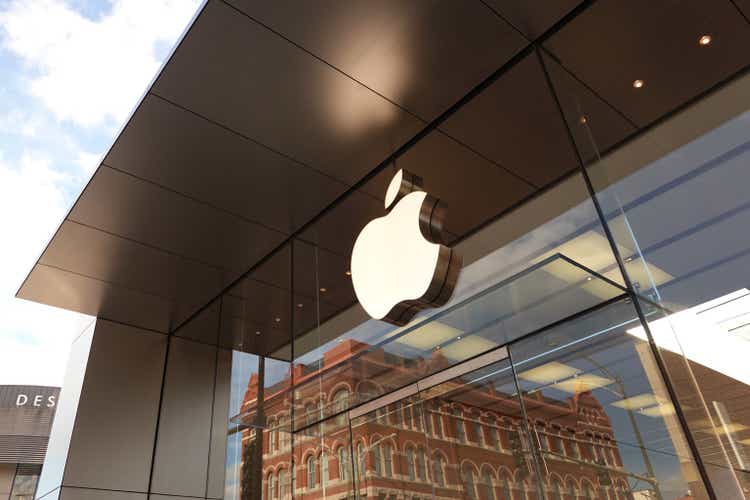 Apple Inc. (NASDAQ:AAPL) is gearing up for the release of its fiscal third quarter or FQ3 earnings release post-market on August 3. CEO Tim Cook and his team are not expected to deliver revenue growth inflection (-1.4% YoY) for the upcoming report card. However, since the market is forward-looking, I believe investors are likely pricing in a much more robust FQ4 report card as Apple prepares to launch its iPhone 15 and 3nm process MacBook Pro in its most crucial calendar quarter.
Therefore, the recent report by The Information could disappoint some Apple investors, as it reported that "Apple is encountering difficulties in assembling its upcoming iPhone models, the iPhone 15 Pro and Pro Max." Given the significance of its more premium models to help mitigate the expected shipment decline for FY23, this doesn't augur well for Apple's holiday season sales.
While it's still too early to assess the fallout from its potential delay, AAPL's "priced-for-perfection" valuation suggests there isn't much wriggle room for disappointment in its critical seasonal quarter. As such, Apple holders need to prepare for the possibility of "fewer units being available initially, particularly for the iPhone 15 Pro Max."
Supply chain sources suggest that Apple's revenue performance would likely hinge on the success of its higher-end iPhone 15 launches. DIGITMES updated that Apple could ship about 84M iPhone units at the midpoint for 2023, "lower than the nearly 100M units shipped for the iPhone 14 last year." However, based on Trefis' FY23 iPhone revenue forecast of $203B (down 1% YoY), Apple cannot afford significant shipment delays on its new premium launches. Therefore, I encourage Apple investors to pay particular attention to how Cupertino company would resolve its production challenges, as it could impact investor sentiments, given the remarkable surge that AAPL has enjoyed this year.
Interestingly, Bloomberg's Mark Gurman broke the news last Sunday that Apple could introduce on-device generative AI on its products. It's a significant development considering Apple has been tight-lipped about its generative AI strategy.
It also comes hot on the heels of the recent announcement between Qualcomm (QCOM) and Meta Platforms (META), partnering to release generative AI on Qualcomm's Snapdragon SoCs with Meta's open-source Llama 2 LLM.
Bloomberg indicated that Apple has stepped up its momentum in getting its generative AI work ready based on its internally-built Ajax framework. The company was also reported to have created an internal chatbot called AppleGPT. However, Apple has "yet to finalize" its generative AI strategy for its consumer ecosystem, in line with the more cautious cadence that Cook likely prefers.
However, Apple was also reported to be ready for a "significant AI-related announcement" in 2024, indicating that it possibly sees the partnership between Qualcomm and Meta as a credible threat. Qualcomm has smartly leveraged its close partnership with Meta to gain the advantage of deploying generative AI on the edge. Given Meta's past IDFA-linked "hostilities" with Apple, I don't expect Cook and Zuckerberg to be working closely together on deploying Meta's LLMs. Hence, the battle between Apple's LLMs and Meta's open-source models will be critical for investors to assess.
Stratechery's Ben Thompson opined that he concurs with Meta's belief that "an open approach is the right one for the development of today's AI models, especially those in the generative space where the technology is rapidly advancing."
As such, he noted that while Llama 2 is "not as good as GPT-4" currently, the model "can be run anywhere, can be fully optimized, and is free." Therefore, Qualcomm's decision to take the open-source route is significant. While still too early for us to assess whether Meta's approach could outcompete Apple's likely propriety/walled garden strategy, Microsoft (MSFT) is taking no chances. As seen in its recent announcement to partner with Meta on its LLM models, the Satya Nadella-led company will benefit from the competition between OpenAI and Meta.
Apple investors saw a momentary surge this week as they latched onto AAPL's AI news. However, the momentum has since stalled and could reverse if the bearish reversal condition holds through the rest of July.
As seen in the AAPL/SPY long-term chart above, AAPL's momentum has stalled against the S&P 500 (SPX, SPY), suggesting buyers have rotated out in July even as it broke above its previous highs in June.
A decisive close below its September 2022 highs could encourage more dip buyers who benefited from this year's surge to cut more exposure, intensifying selling pressure.
I see AAPL's valuation as unsustainable at the current levels. At a forward EBITDA multiple of 23.7x (two standard deviation zone over its 10Y average), AAPL has struggled for momentum, suggesting buyers aren't keen to take it much higher from here.
As such, investors sitting on significant gains should consider cutting their positions, leveraging on the recent sector rotation, before a further selloff follows.
Rating: Maintain Sell.
Important note: Investors are reminded to do their own due diligence and not rely on the information provided as financial advice. The rating is also not intended to time a specific entry/exit at the point of writing unless otherwise specified.
We Want To Hear From You
Have constructive commentary to improve our thesis? Spotted a critical gap in our view? Saw something important that we didn't? Agree or disagree? Comment below with the aim of helping everyone in the community to learn better!