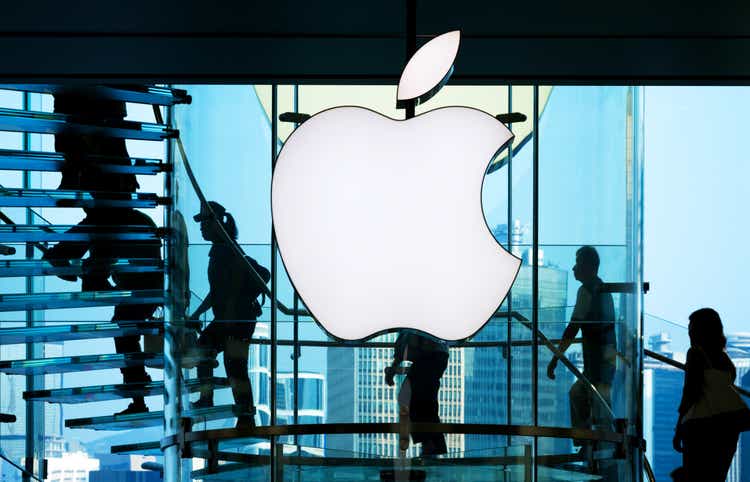 Investment Thesis
Demand in the global market of devices remained weak. Apple (NASDAQ:AAPL) sold 58 mln (-2% y/y) iPhones, 12.4 mln iPads (-17% y/y), 4.4 mln Macs (-38% y/y), and 10 mln Watches (-32% y/y) in 2Q 2023. Markets declined more than we had expected, prompting us to reduce the forecast for 2023 shipments in all segments of Apple's products. We rate the stock a sell.
Smartphones Market
The global market of smartphones has fallen for a fifth straight quarter. The total smartphone shipments dropped by 13% y/y in 1Q 2023 (2Q 2023 of Apple's fiscal year).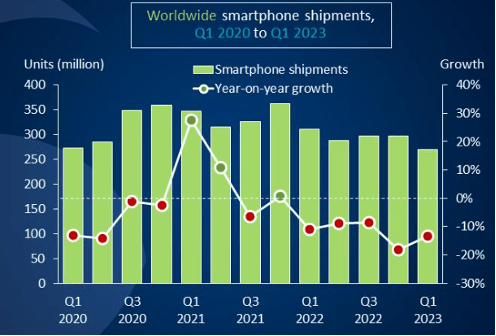 Falling real incomes and the weak recovery of demand in China have prompted the downward trend in the smartphone market to continue. The poor stratum of the population has been hit the hardest by high inflation, which is the reason why the biggest decline in sales was observed in the segment of cheap smartphones. It didn't help that sweeping advertising campaigns were launched touting discounts, so that retailers could destock (sell off their inventories). It is expected that total smartphone inventories will return to a healthy level in the next few quarters.
Apple sold about 58 mln iPhones (-2% y/y), more than anyone else in the industry thanks to its exposure to middle and high-income audience. Apple's share of the entire market climbed to 21% (+3 pp y/y) in 1Q 2023. The market share of its key rivals – Samsung and Xiaomi – slid to 22% (-2 pp y/y) and 11% (-2 pp y/y), respectively.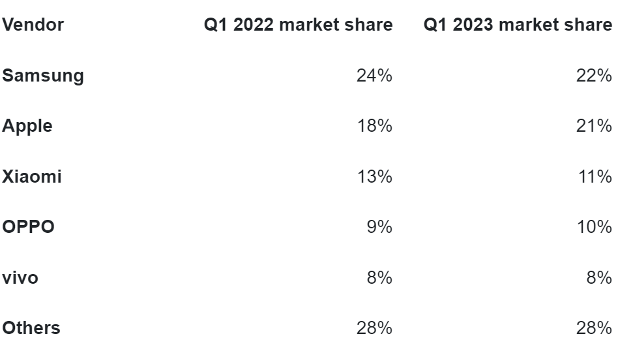 As weak demand is putting a greater pressure on the smartphones market than expected, we are lowering the forecast for total smartphone sales in 2023 from 1220.4 mln units (+2.3% y/y) to 1193.2 mln units (+0% y/y), with the recovery accelerating toward 4Q 2023. We are also lowering the forecast for 2024 from 1290 mln units (+5.7% y/y) to 1224 mln units (+2.6% y/y) as the effect of inventory normalization is being pushed back.
As a result, we are lowering the forecast for iPhone shipments in 2023 from 245 mln units (-0.4% y/y) to 232 mln units (-5.7% y/y).
iPad Segment
The tablet market was down 18% y/y in 1Q 2023. For the most part, the tablet market declined for the same reasons as the smartphone market. The only exception was the holiday period in 4Q 2022, when tablet manufacturers offered massive discounts, which helped to keep the market afloat, with a growth of 1% y/y in that period. In the smartphone market, massive discounts came from dealers in 1Q 2023, in order to achieve a healthier level of inventories.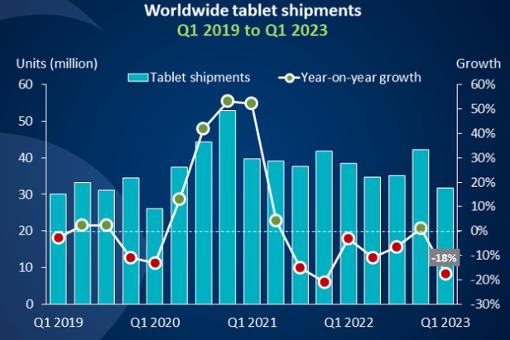 Apple retained its leadership in the tablet market in 1Q 2023, selling 12.3 mln devices (-17% y/y), which made up 38.9% of the market (+0.3 pp y/y). Apple's competition in this market is Samsung with a 21.2% market share (+0.8 pp y/y) and Amazon with a 7.9% market share (-1.4 pp y/y).
Given a steeper decline in the tablet market than we expected, we are lowering our forecast for iPad sales from 70.5 mln units (+11% y/y) to 59.7 mln units (-5.6% y/y) for 2023, and from 75.8 mln units (+7.5% y/y) tp 62.5 mln units (+4.6% y/y) for 2024.
Mac Segment
Total PC shipments fell by 28% y/y in 1Q 2023 due to declining real incomes and sweeping corporate layoffs. Apple showed one of the worst performances in the sector. Sales of Macs fell to 4.4 mln units (-38% y/y). The stronger drop, compared with the rest of the sector, is attributable to the longer life cycle of Apple's devices, which means more time elapses before Apple devices are replaced, compared with the competition.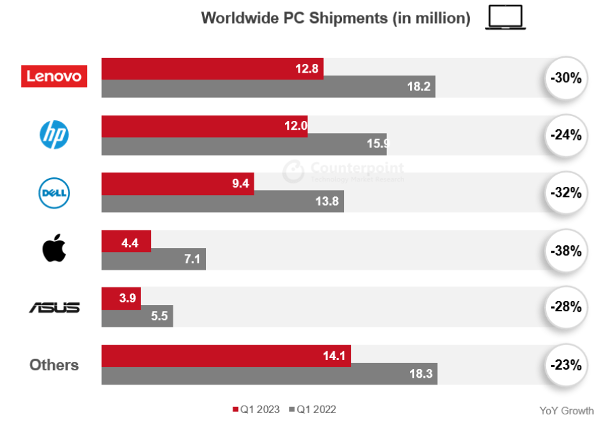 Due to the stronger pressure that's exerted on Apple's sales by the market's macro environment, we are lowering the forecast for Mac sales from 29.8 mln units (+4.2% y/y) to 23.9 mln units (-16% y/y) for 2023, and from 31.3 mln units (+5% y/y) to 24.4 mln units (+2% y/y) for 2024.
For the iPad and Mac segment as a whole, we had expected a positive y/y sales performance in 2023, due to the superiority of Apple devices in their niches and the release of even more powerful devices, similar to the performance on the smartphone market. But our expectations have not materialized and Apple's sales in these markets are the closest to the performance of its competition. Additional pressure on the PC and tablet markets comes from the weak recovery in China, which is the largest consumer of devices.
Apple Vision Pro
At its Worldwide Developers Conference on June 5, Apple unveiled an augmented reality headset, which the company plans to release at the start of 2024 (tentatively, in 2Q of Apple's fiscal year 2024).
According to Statista, the global market of AR headsets will total $2.36 bln (+127% y/y) in 2023, and the market of AR software $11.58 bln (+10% y/y). The potential value of the AR&VR market is estimated to total $52 bln by 2027 (meaning a CAGR of +14% y/y).
Two key things to note about Vision Pro are that it's the first new product from Apple after the release of the Apple Watch more than 10 years ago; and that the price of the new gadget will be $3499, which is significantly more expensive, compared to the competition in both the AR and VR segments.
Apple's headset will run on its own operating system called visionOS, which is the world's first spatial OS. The proprietary OS allows the user to interact with digital content without using controllers (an important difference from the alternatives). Instead, the OS responds to natural user movements (eye and hand movements, and voice commands). The headset also supports ultra-high-resolution displays with 23 million pixels, which is significantly more than existing devices have.
The main rival product on the market is Meta Quest Pro, which offers a similar option to switch between virtual and mixed realities. Meta Quest Pro has been on the market since 2022, selling at $999 and offering access to the entire Oculus ecosystem.
The market of AR/VR headsets is fairly young and unstable from the perspective of its participants. It has fairly long been dominated, almost exclusively, by Meta's Oculus, which aggregated more than 80% of the market in 4Q 2022. Sony PSVR 2 came to market in February 2023, grabbing 35.9% of the total VR/AR headset market over a little less than 1 ½ months. Oculus headsets continued to dominate, but their share slumped from 81% of the market to 47.8% over the first quarter.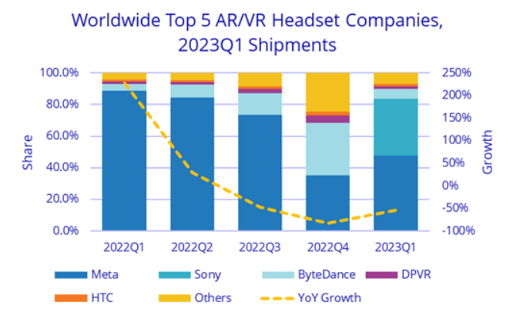 The VR/AR market has declined by 54.4% y/y in terms of units, with the drop mostly affecting VR headsets. If we single out AR headsets alone, this segment expanded by 12% y/y due to products released by Xreal, a player confined to an extremely small niche.
Sony, which has just returned to the market, has quickly enough won back attention in the VR/AR market, which only reaffirms that the market is in the early phase of user interest. Therefore, when analyzing Apple's potential performance, the focus should be on sales in terms of units. Especially since Apple is not competing with Oculus and Sony for the best price, with those companies offering their devices at $599 to $999 depending on the model.
Apple expects it will sell about 1 mln headsets in 2024 (compared with the total of 8.8 mln headsets that were sold in 2022). Different analysts have quite a wide range of estimates for potential sales. KGI Securities believes that Apple will sell only 200 thousand units, while CS analysts expect sales of more than 1 mln units. If the company manages to sell 1 mln units in 2024, that would bring in about $3.5 bln in revenue from the gadget sales alone.
It's worth bearing in mind that the Vision Pro will be built into Apple's wider product ecosystem, and most of the projected AR market for 2024 is made up by advertising and software sales (total gadget sales will account for only $4.4 bln of $22 bln).
As a result, Apple could earn not only the $3.5 bln in revenue from gadget sales but also about $500 mln in average fees from software companies that operate using Apple infrastructure.
We do not expect Apple to dominate the general VR/AR device market as it does the smartphone market, where the company has a 20% market share in terms of units and 80% in terms of profit. That's because the market is now shaped by major players with their own developed ecosystems: Oculus and Sony
The bottom line is that we expect revenue from the product to total $4 bln in 2024 and rise to $4.8 bln in 2025.
EBITDA from the product, including services – assuming Apple products have an average margin of 35%, and Apple services have an average margin of 70% – could reach $1.6 bln in 2024 and $1.9 bln in 2025.
Revenue and EBITDA from Vision Pro will make up about 1% of the company's total revenue.
Apple's Financial Results
Due to the downward revision of the performance of the main device markets where Apple has a presence, and as we add revenue from Vision Pro, we are lowering the revenue forecast from $420.1 bln (+6.5% y/y) to $391 bln (-0.1% y/y) for 2023 and from $465.6 bln (+10.8% y/y) to $428.5 bln (+9.6% y/y) for 2024.
We are also lowering the EBITDA forecast from $133.6 bln (+2.3% y/y) to $124.2 bln (-0.5% y/y) for 2023 and from $145.2 bln (+8.7% y/y) to $134.8 bln (+8.5% y/y) for 2024.
Valuation
According to our estimates, the fair value price of the stock is $129. Target price was obtained as the average between the two evaluation methods. Rating is sell.
Conclusion
Apple is a high-tech company that is busy developing its own ecosystem. However, recent trends in the smartphone market significantly limit its growth potential. The current business growth rates do not correspond to such an inflated valuation. We believe the Apple stock rally is coming to an end. Rating is sell.