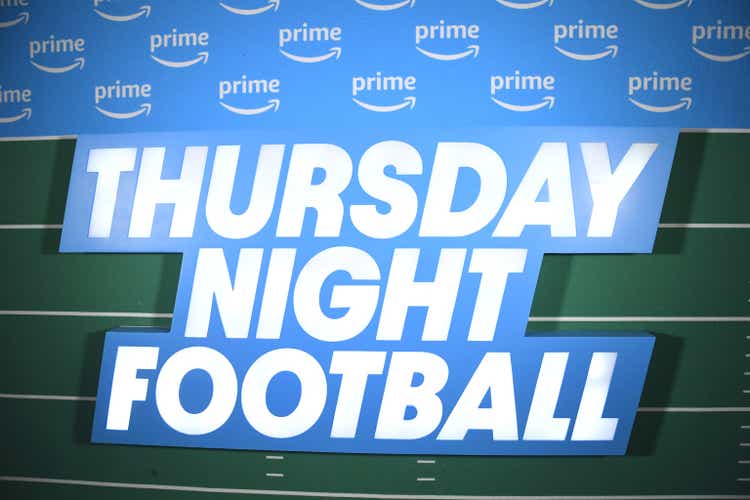 If you are a football fan – week one was mostly forgettable.
If you are football fan who also is an investor – week one was mostly painful.
And that's if you could even watch the games in the first place.
The kickoff to the season was sidelined in many areas due to ongoing carriage disputes, putting a damper on what's traditionally a big boost for media companies.
However, this year games in 37 markets are blocked on Nexstar (NASDAQ:NXST) channels due to a fight that has been raging for three months and Charter (NASDAQ:CHTR) spent last weekend with the specter of knowing it may have to deal with angry New Yorkers missing the debut of Aaron Rogers as a member of the New York Jets… even as short lived as it turned out to be. And in Charter's case it also was fending off angry calls from New Yorkers (and others) who were blocked from watching the US Open finals.
While Charter's feud with Disney was resolved on Monday, Nexstar is still in a standstill overall. But in any case, both the companies and the networks did themselves no favors here.
In an era with rising cost and cord cutting giving viewers any more incentive to ditch cable is not a wise idea… and yet here we are.
One big winner in all this is streaming, specifically Apple (NASDAQ:AAPL) and Amazon (NASDAQ:AMZN), which have taken full advantage of their entrance to the sporting realm. Given current events, it's important for investors to understand what they bring to the table and why it's more valuable than you may think.
First as always, some background.
Carriage fights are nothing new and usually revolve around cable companies not wanting to pay new rates for network content. It's the same old story – the cable company blames the networks and the networks blame the cable company.
Stuck in the middle – as always – are the consumers.
It's tiring.
What we're seeing is a feud that's not that different from the writers/actors strikes currently in play… both involve the networks and both come down to debating "what a fair deal is." Although that specific debate is a story for another day.
For now, I want to focus on Amazon and Apple which is showing the value that comes with working with a streamer for content.
One big plus – no carriage strikes to worry about.
Yes, these services often carry an additional cost (or costs) to access, and yes, it can be an adjustment for those not used to streaming their sports, but that cost – both financial and time centric, is really more an insurance policy. It's a guarantee that you won't miss the big moments because of some type of feud.
And for those unconvinced… let's go deeper because what both companies are doing here is evolving their offerings vs. just offering them.
Let's start with Amazon which is trying to win over viewers by showing the depth of their Thursday Night Football package. Yes, there's the ability to listen to multiple feeds/commentators, but that's not that groundbreaking (anymore) – what's fascinating is how they are bringing AI into the mix.
Amazon has been teaching its systems about football and the result are cutting-edge new features that speak to a brand-new type of audience. These are viewers who want to feel more involved, and while other may care about the one-handed catches, this group is there for the gamesmanship that comes before the pass is even thrown.
Part of that is addressed in the new "Prime Vision" mode, a stream where AI essentially tries to predict the next play from the huddle in the same way a quarterback would from watching the field. More simply put, this is what coaches look for in game film, but with AI, it's trained to find it in the moment. Whether you're a data-driven fan or a gambler looking for an edge, it adds a new perspective to the game.
Fans also can access a new "Rapid Recap" mode where viewers coming in late can see a two-minute AI-generated recap of all the best plays (and jump right to that part if desired). Think of it as a "last week on xxxx," type approach but for football. Whether you missed kickoff because of work getting in the way or your kids not going to bed on time – it's a nice tool for those missing kickoff.
And that's the point… Amazon wants to make it easier for you to jump into the action and not feel like you have to watch every down if you don't want to or can't make time. As with "Prime Vision," it also is a differentiator that shows the value that comes with a steamer as a partner.
In the same vein, Apple has shown its version of added-value in sports by fully embracing Major League Soccer (MLS) and its content. The company isn't just streaming the games, it built the mechanism. Apple worked with MLS to create the platform and has a genuine stake in the action beyond just rights to air it.
It's the same type of experience they had hoped to build out for the NFL and Sunday Ticket before realizing the archaic language in the contract would restrict such innovation.
Apple also leaned into what its Major League Soccer fans want – more Messi.
The debut of international soccer legend Lionel Messi for the Miami team has been nothing short of spectacular. His addition to the team has massively boosted the popularity of the sport and brought a team from worst to first… he's also had a sizable effect on Apple TV+ subscriptions.
And Apple ahead of time approached the star about a development deal to create content around his life story. While that may seem like a standard play, it shows Apple understands the market it has entered.
Add in Apple curating MLS playlists on Apple Music and highlighting directions to MLS-centric restaurants on Apple Maps and you can see this was not a knee-jerk move to dip its toes into the sports world. It was an all-in move to become involved with soccer as a whole and power what's one of the more undervalued leagues of today. Remember, in the rest of the world soccer (or football) is king, but here it's not even one of the big four (NFL, NBA, MLB, NHL), at least not yet.
And keep in mind Apple has some of those covered as well – it has a special MLB Friday Night Package and it has the rights to the NFL Super Bowl halftime show. Many also expect it to make a play for the NBA rights when they come up for grabs in the very near future.
If you're a league looking to make a move into digital, what Amazon and Apple are offering is compelling. Both companies and their contemporaries are offering things that are harder for purely linear channels to compete with through their offers.
These can be complete hubs designed for fandom and more importantly they're safe spaces for those fans. There's no middle man here, it's the service and the league. Outside of unsteady WiFi there's not going to be a lot of factors that will derail the user experience.
You would think that even with lackluster games over the first week, the strong ratings (even from a 40-0 blowout by the Cowboys) would be enough of a reminder to the industry the value of the system it currently has in place and not give any more of an opening to streamers.
Many assumed the Disney/Charter feud would end ahead of Monday Night Football (which it did), but many are just as floored Nexstar has let their stand-off continue. Rights to these games are expensive but they're also valuable and while audiences are staying put now… it's not a lock they will forever.
Networks and telecom companies would be wise to tread lightly here because as much as they need to innovate to be financially healthy… they also need subscribers and right now they many feel more alienated than entertained.
Editor's Note: This article discusses one or more securities that do not trade on a major U.S. exchange. Please be aware of the risks associated with these stocks.