Learn how to search for undervalued stocks with a simple-to-replicate strategy suitable for novice investors.
Discover the power of two combined metrics (Fair Value Growth and Global Score) to search for undervalued stocks in any region or stock market in the world.
Find out how InvestingPro's filtering system works: A simple and practical tool to find the best options for investing in the stock market.
Looking for more actionable trade ideas to navigate the current market volatility? Members of Investing Pro get exclusive ideas and guidance to navigate any climate. Learn More »
If you wish to enhance your understanding of the stock market or are seeking a simple method to identify undervalued stocks, InvestingPro's stock screener is a valuable tool that should be on your radar.
In case you're not familiar with InvestingPro, it's a premium tool offered by Investing.com, designed to assist small investors like you in making well-informed and profitable investment choices.
It simplifies the process of determining whether a stock is undervalued or overvalued, making your buy and sell decisions straightforward and transparent.
But how do you discover undervalued stocks in the market and get in on them before they take off?
In InvestingPro's 'Filter' section, you'll find a range of predefined strategies like Strong Upside, Bullish Stocks, Piotroski Score, Ben Graham Formula, Tech Gems, Dividend Dream, 52-week Lows Bargain Hunters, Cash is King, and Altman Z High Score.
These strategies are excellent for uncovering hidden gems in the market based on various metrics, but they might be a bit overwhelming if you're a beginner investor.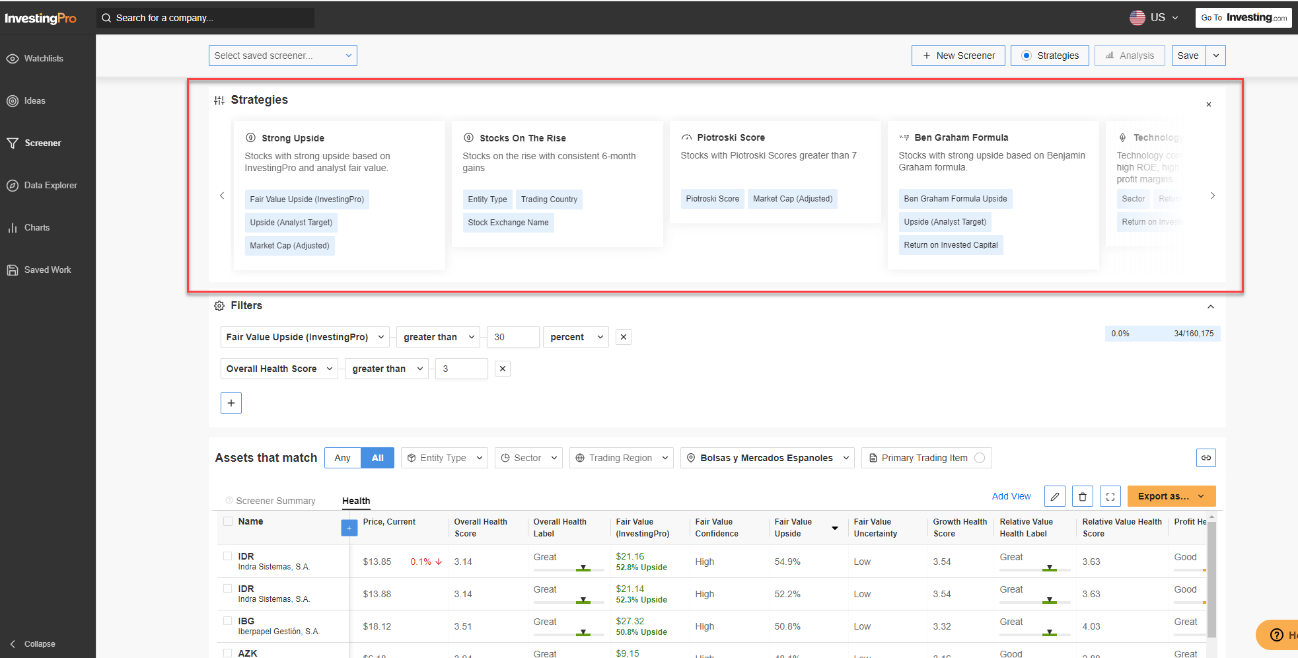 Source: InvestingPro
That's why from this point on I'm going to show you how to create a stock screener with InvestingPro that is simple, straightforward, and suitable for all types of investors (even if you are a novice or beginner) and that also works to find stocks with great revaluation potential. Here's how to pick winning stocks step by step:
Step 1: Delete Existing Filters
The first step is to delete all the filters you have active by clicking on the X that appears to the right of each filter.
Source: InvestingPro
Step 2: Add New Filters
The second step is to add 2 filters. Only two? Yes, only two, but with a huge search and selection potential.
Source: InvestingPro
The first metric to add would be the InvestingPro Fair Value Increase and the second is the Overall Score.
What do these two metrics mean?
Market value or InvestingPro Fair Value in a nutshell means the price a stock 'should' have, not the actual price it holds in the stock market. Thus, this metric assumes the increment of its actual or underlying intrinsic value. It is an unbiased estimate of the potential market price and is useful in fundamental analysis to estimate the value of a company based on future cash flows.
The Overall Score, on the other hand, refers to the financial health of a stock and represents the overall strength of a company. In other words, the Global Score is a signal of a company's performance and financial position based on an assessment of overall market value, calculation of specific financial ratios and comparison with other companies in the same industry. InvestingPro's Financial Health uses a scale of 1 to 5 to score stocks taking into account five parameters based on our health checks: Relative Value, Price Momentum, Cash Flow, Profitability and Growth. Therefore, the Health or Financial Status of a company is shown as a weighted average of the health checks.
Step 3: Refine Your Search
Once we have established the two metrics in our filter we will try 'tightening' the data to find an optimal selection of stocks (more than 5 and less than 20, for example) that meet these criteria.

Source: InvestingPro
From here on (and whenever you are interested) you can add more metrics following your knowledge and your stock selection process.
Moreover, if you prefer to keep things simple, these two metrics can help you uncover appealing stocks without the need to worry about the stock market, index, or region you choose.
You can achieve this by applying filters in the Trading Region or Stock Market sections.
Source: InvestingPro
Step 4: Sort Your Final Results
So for the example, I have created a filter with these two metrics based on the Spanish Stock Exchanges and Markets.
Thus for a fair value increase greater than 30% and with an overall score of 3 (out of 5) I get 16 companies, all with a revaluation potential greater than 35% (even reaching 45 or 50% in some of them) and with a good financial score that assures me that they are strong, reliable companies with low uncertainty.
As demonstrated by this example, the only limits to identifying stocks with substantial growth potential are your available time and your creative thinking.
For instance, if you switch the trading zone to the US, you might uncover a broader selection of stocks and the entire process is virtually the same.
Additionally, by incorporating a specific sector into your filter criteria, you can unearth hidden gems within the vast sea of available stocks.
In summary, InvestingPro's stock finder proves to be a highly practical and user-friendly tool for pinpointing the most promising investment opportunities in the stock market.
I encourage you to give it a try and share your insights and experiences with fellow users. I hope you've found this article informative!
***
With InvestingPro, you can conveniently access a single-page view of complete and comprehensive information about different companies all in one place, eliminating the need to gather data from multiple sources and saving you time and effort.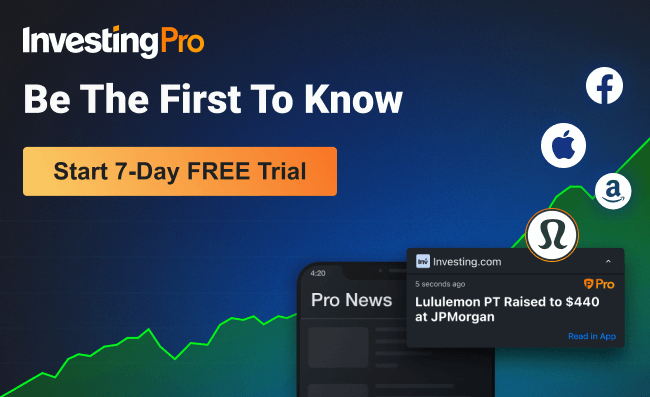 Find All the Info You Need on InvestingPro!
Disclaimer: This article is written for informational purposes only; it does not constitute a solicitation, offer, advice or recommendation to invest as such and is in no way intended to encourage the purchase of assets. I would like to remind you that any type of asset, is evaluated from multiple points of view and is highly risky and therefore, any investment decision and associated risk remains with the investor.