This article was written exclusively for Investing.com
The recent three-day rally has many investors feeling the worst is over, and markets have much higher to climb. However, the market's internals look very weak on the and NYSE , with the number of stocks making new lows, outpacing those making new highs regularly.
Liquidity in the market is terrible; as measured by the CME, the liquidity in the has been at its thinnest levels since the pandemic began. Meanwhile, the spread between the bid and the ask are near their widest points.
The top of the book on the S&P 500 futures has recently narrowed to its worse levels since the start of the pandemic. Fewer shares are available to buy or sell on the bid and the ask. It makes for a much jumpier marketplace and allows the S&P 500 futures to have big moves on seemingly no volume.
Additionally, the bid and ask spread has widened to some of its highest levels since the pandemic. Like the decrease in the depth of the book, the wider the bid and ask spread means the cost for trading rises, with traders buying and selling fewer shares at a given price but at wider spreads, creating volatility as prices need to move more for orders to fill.
On top of this, the number of stocks making new lows versus new highs in the NASDAQ is staggering. The number of stocks making new lows has easily outnumbered those stocks making new highs on the NASDAQ and have been overwhelmingly negative numbers. The cumulative chart of stocks on the NASDAQ making new highs vs. new lows has been making lower lows daily.
Additionally, similar trends are taking place on the New York Stock Exchange, with the number of stocks making new lows outpacing the ones making new highs.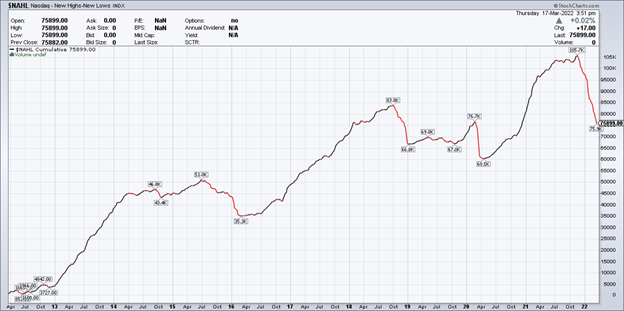 NASDAQ New-Highs-New Lows Index 10 Years Chart
The stocks and ETFs that seem to be having the most significant gains are those that have been the most beaten down, such as the ARK Innovation ETF (NYSE:). It is an ETF that has been trending lower for some time and is returning to the upper end of its trading channel.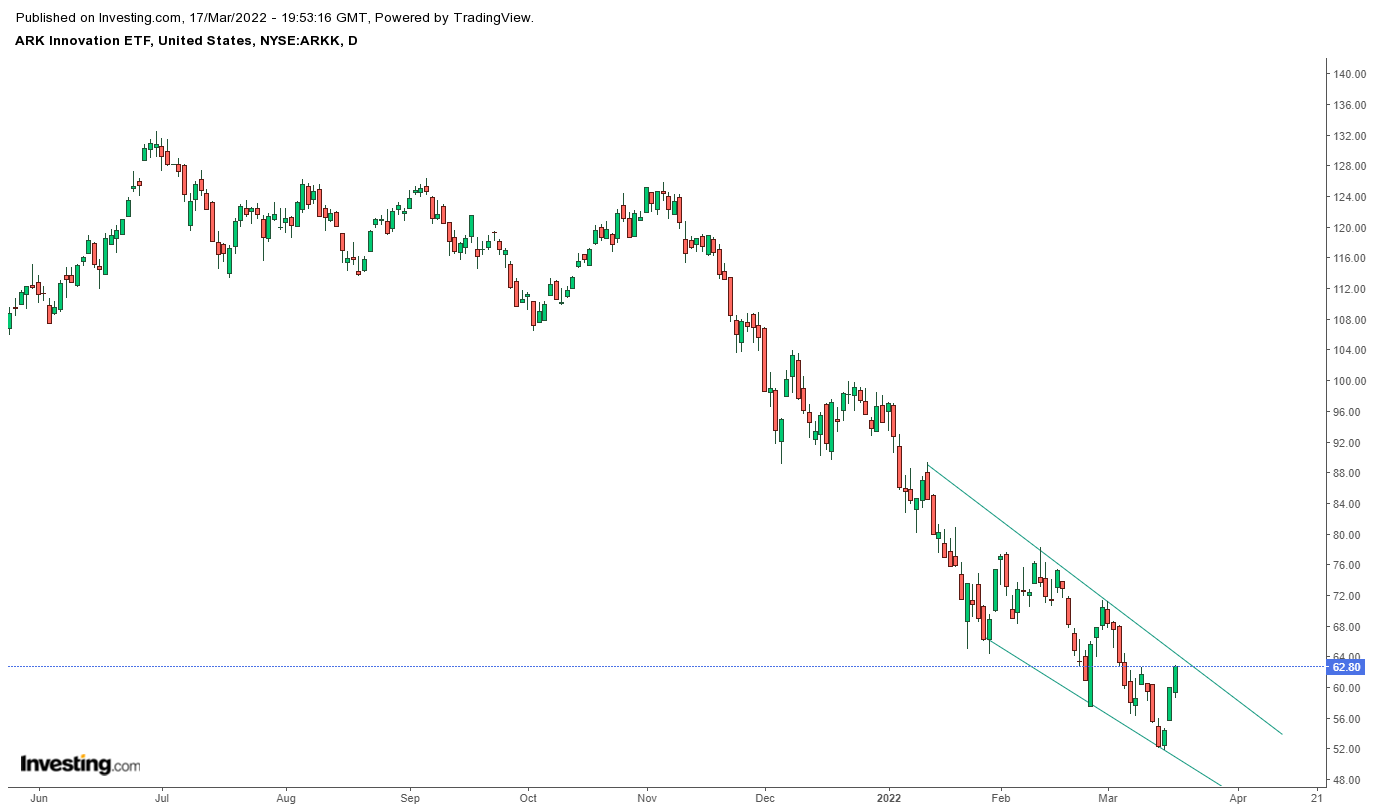 Stocks like Block (NYSE:), PayPal (NASDAQ:), and Zoom (NASDAQ:) have risen sharply in recent days, and these are among some of the many stocks that have continually made lower lows in recent weeks. While they have recently bounced from those low levels in recent days, the sustainability of their ascend remains unclear.
Together, these trends in stocks and liquidity display a fragile and unstable market, making every rally doubtful until liquidity and market internals can begin to improve.