2022 has started on a different note. After a pandemic-driven market that saw growth stocks soar and indices continue to climb, the onset of a number of factors has slowed the market down. Consider the following:
The increasingly sticky nature of inflation, which is setting 40-year highs

The war in Ukraine, leading to rising commodity prices

The "Covid hangover" as companies lap results from the pandemic

The first interest rate hike of what could be a prolonged rate hike cycle

A large cohort of new investors who are seeing sustained volatility for the first time
With all that going on, investors' lives get harder. Stocks sold off heavily to start the year, then climbed and dropped and climbed again; crypto assets seem to go through that cycle twice a day. Commodities are the new 'just go up' trade, and even there it's easy to get caught on the wrong side of a move.
Instead of worrying, investors can take this volatility as an opportunity to step back and reflect on one's portfolio. Whatever the endurance of these trends, it does feel like we're in a new "investment regime", where profits matter more than growth and where the true durability of business models and investment analysis get put to the test. Even for long-term investors, resetting and adjusting can be valuable.
For a successful reset, it's best to take the emotion out of one's investing, and to simplify the research process. One way to do that is by leaning on fundamental tools and data. Investing Pro+ is built on fundamental tools and data. In this article I'll walk through some of the features and tools available to investors on Investing Pro+ to take the emotion out of investing, simplify the research process, and get up to speed on a stock or idea.
Checking your portfolio's health
The first step to a reset is to get an idea of where you are now. I have a watchlist that I track on Investing.com, and it also ports over to Investing Pro+. Here's a look at a chunk of my watchlist:
With this watchlist view, the first things I can see are two fair value estimates – one from Investing Pro+'s proprietary financial modeling, and one from sell-side analysts' price targets. I'll explain the Pro+ fair value below, but the two values give me an idea of how in line my watchlist stocks' prices are with the fundamental values and with analyst sentiment.
There are also a number of fundamental metrics just outside of this screenshot, ranging from enterprise value to P/E ratio to dividend yield to total debt/total capital to short interest. The view is customizable, so if there are any data points you care about more, you can add them in here.
The watchlist then offers a risks tab, an efficiency tab, and a projections tab. They're quick views based on proven investment metrics that allow you to see where the warning lights are in your portfolio and where you are well positioned.
While this shows the stocks in my portfolio with the most upside, I also have a couple long-term winners like Progressive and Apple that, per Investing Pro+'s fair value, may be fully priced, while on the other hand Just Eat Takeaway's Piotroski score is really weak, showing poor efficiency that may explain the company's underperformance. Those are stocks worth researching deeper to understand whether they should stay in the long-term portfolio.
Finding new ideas: A powerful Stock Screener
Once I figure out how to clean out my portfolio, I'll want to find new ideas. Idea generation can come from articles, from personal observations – the Peter Lynch approach – from news, and a number of other ways. Investing Pro+ has new spins on a couple classic ways to find ideas.
Start with a stock screener. Stock screeners are classic tools to filter stocks based on fundamental metrics, sector, exchange, and a number of other vectors to find a certain set of stocks that might be worth more exploring. It's the start of the journey, not the end, and can produce opportunities worth studying.
The Investing Pro+ stock screener takes that basic starting point and amps it up, without making things harder. Here's a screen I ran for stocks above $5B in market cap, with negative net debt, a price to earnings ratio between 0 and 20, revenue growth of greater than 10%, and a pro fair value upside of at least 30%:
Like the watchlist, the screener gives us all the metrics we need to understand a stock's basic situation quickly. There are over 1000 metrics available in the screener, so if I want to tweak any of the inputs, I can get exactly what I'm looking for. And, as you might see at the top of that screenshot, there are two special features:
I can search across the world, with the option to add in companies from any region.

I can export the data so that I can play with it later.
There's a great deal of customization, professional data on companies from all around the world, and easy-to-understand information.
And, if all of that is confusing, you can also just use our preset example screeners to find ideas based on a number of different styles:
All this allows you to find ideas in whatever style or approach you want, whether it's through a screen prepared for you or one you design yourself. I already own shares of Berkshire Hathaway (NYSE:) (NYSE:), (B shares, not A shares) which tops the list, but there are also interesting names like Deckers (NYSE:), Regeneron (NASDAQ:), and Meta Platforms (NASDAQ:).
Finding new ideas: Learning from the best
Another approach to finding ideas is by studying the investments of the best investors in the world. This is Pro+'s Ideas category.
For example, I'm a fan of Joel Greenblatt and have read a couple of his books. The legendary fund manager has posted great historical returns, and his holdings have outpaced the S&P 500 over the last 1, 3, and 5 years.
I can go to his portfolio, as pulled from his quarterly filings with the SEC, and see high-level stats like the performance ones above, the sector concentration, the list of largest holdings, and even the potential upside for his holdings based on Investing Pro+'s fair value.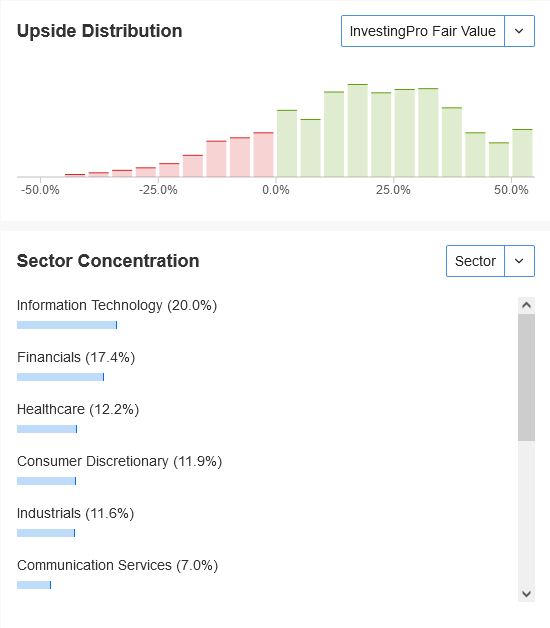 Joel Greenblatt's Portfolio Distribution on Investing Pro+
At the bottom of the page, I get the screener views based on Greenblatt's portfolio. While once a famously concentrated investor who only owned a few stocks at a time, he now holds over 1000 stocks, which means a lot of potential ideas. Some of the stand-outs for most upside based on Investing Pro+ are The Children's Place (NASDAQ:), Mohawk Industries (NYSE:), Thor Industries (NYSE:), and Facebook again. I have Thor in my portfolio and watchlist as seen in the top photo, so it's nice to see it's also in one of the top investor's portfolios.
Drilling in on a stock
Mohawk stands out to me based on that list as a stock worth researching further. There are a few ways that Pro+ can help me get up to speed fast on the name.
First, Pro+ calls out a few key insights on the stock, with the share buyback point standing out:

Key Facts on MHK on Investing Pro+
Then, Pro+ tracks the financial health of each company, and I can get a quick snapshot of Mohawk's condition: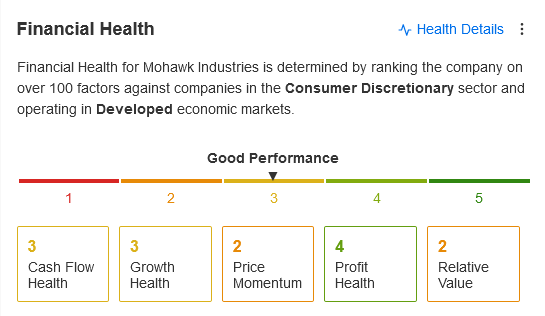 for MHK on Investing Pro+
Not outstanding, but I don't worry as much about price momentum, so the balance gets better.
Pro+ also features the full financials on a company dating back 10 years; the quote page gives me a quick snapshot of recent financials (free cash flow is trending downward which is not great) and then I can dig into the financials directly on the platform.
There are plenty of other features like peer benchmarks and comparisons, dividends and earnings history, and breaking news on the stock over time to understand what happened to the company. But the last one I want to spotlight is the fair value calculation.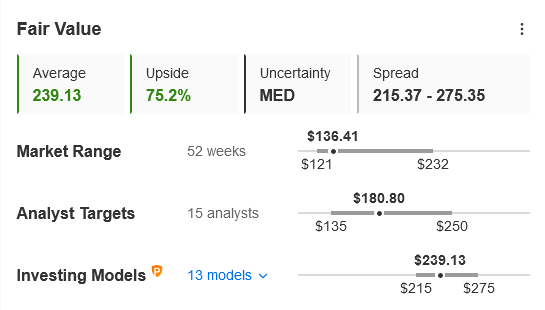 Fair Value for MHK on Investing Pro+
The calculation itself is easy to understand. It is a price target based on several different financial models – 13 in Mohawk's case, ranging from earnings-based models to discounted cash flow valuations (DCFs) to revenue or EBITDA-based multiples. It's all transparent, too, so you can see what is pulling the average higher or lower.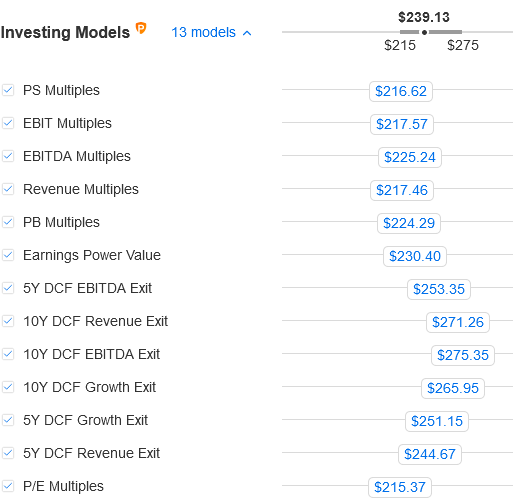 Fair Value Calculation on Investing Pro+
To go deeper, I can click into any of these models and see the inputs that Investing Pro+ has generated. I like to do my own work rather than taking someone else's number; with Pro+ I can take the number and export the work behind it to Excel, so I can create my own model or test my own inputs, bearish or bullish.
Conclusion
Even as markets have bounced back in recent weeks, 2022 has been a reminder that volatility happens. It's also an opportunity to reflect on one's holdings. My aim here was to do some reflection and show how Pro+ can help us take some of the emotion and volatility out of investing. Through a quick and transparent approach, I'm able to take a health check of my portfolio and identify both potential problems to take out of the portfolio and potential new ideas to add to the portfolio. With Pro+ I can go from my existing stocks to new ideas to deep research in a few steps.
We're going to share a few more articles on how to use Pro+ but also some analyses of interesting ideas. I'm pinning Mohawk as one to come back to, as it looks to have a few crosscurrents there to unpack.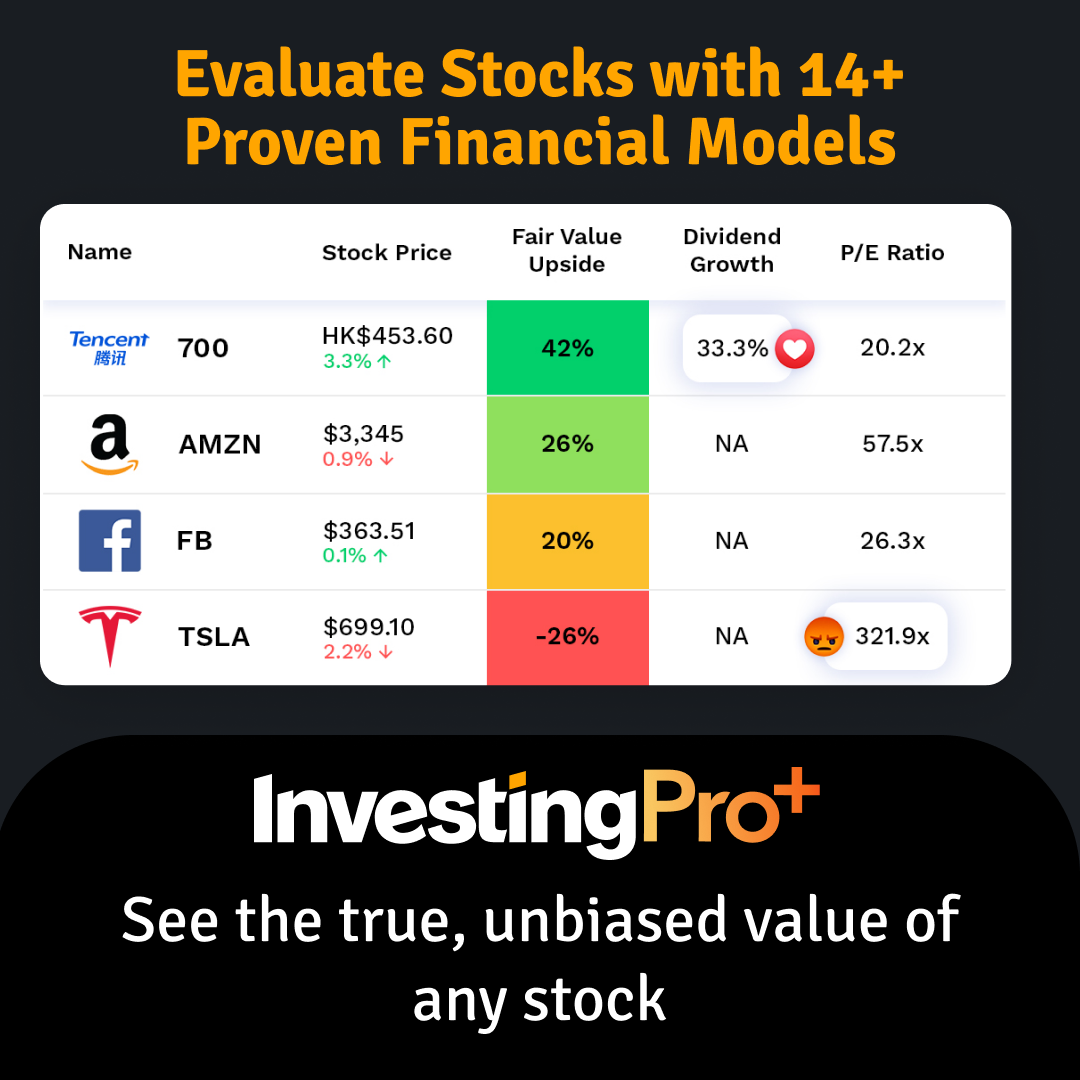 Disclaimer
I am long all positions mentioned in the watchlist image, as well as AAPL and PGR, with no plans to make any changes in the next few days.