Pep Guardiola is "more than convinced" Burnley boss Vincent Kompany will one day return to the Etihad as Manchester City manager.
Kompany served City as a player for 11 years, including eight as captain, leading the club to four Premier League titles in that time and scoring one of the club's all-time famous goals to beat Leicester and all but seal the 2018/19 trophy.
Now manager of their FA Cup quarter-final opponents Burnley, he has continued his success off the pitch, with his side as little as five games away from sealing their Premier League return under his management.
"Maybe he doesn't agree with me, but having seen his teams I'm more than convinced today he's going to come back," Guardiola said ahead of Saturday's fixture. "When? When I said my feelings weeks ago, this part I don't know. But it's going to happen."
"It's nice he's back, but over the last two or three days I've been thinking about what they've done this season. What I saw didn't make me totally surprised about the position they're in, being so close to being a Premier League team next year already.
"Seeing what they do more closely, I understand it completely. They will be really, really tough because they do incredible things on the pitch.
FREE TO WATCH: Highlights from the Premier League match Crystal Palace and Manchester City

"A manager needs time but to be successful with a team, and you need to convince [them] as soon as possible what you believe is the best way to win the games to suit the players perfectly.
"They have a good team – and the way they play is exceptional."
Guardiola also paid tribute to the impact Kompany had on City and his team-mates during his time at the club, including three years under Guardiola, during which the pair won back-to-back league titles in 2018 and 2019.
"Everybody knows he was an incredibly important figure here," he said. "He's one of the biggest legends the club has had. Personally, I have one regret which is that he was injured a lot of the time when I was here.
"But the important thing is how he helped me since day one. I arrived here from another country, didn't know the Premier League, and in the bad moments, his influence on the dressing room always helped the team make steps forward.
"To me, he said the things he thought was best for the club. he was an exceptional captain, a top human being. On the other side, I'm a little bit concerned because when you start playing games with the other manager on the touchline being a player you had, you realise how old you are becoming."
Highlights of the Sky Bet Championship match between Hull City and Burnley

'Not easy' for Alvarez at Etihad
Julian Alvarez signed a new one-year extension less than 12 months after arriving at the Etihad, having won the World Cup and contributed 10 goals in 33 games across his debut Premier League season to date.
Guardiola praised the 23-year-old's work ethic and patience behind Golden Boot leader Erling Haaland in the City pecking order, and said the Argentina forward's time in the spotlight will come.
"It's not easy for him for the fact he plays in the same position as Erling," Guardiola said. "But his behaviour off the pitch, despite not playing with the potential he has and being a World Cup champion, when he does play his contribution is amazing.
"We all believe he's a future player and we are delighted he's signed a new contract and adjusted to a new salary he deserves.
"The players don't believe me but most of the time, we think more about the guys who don't play than the ones who do regularly. I try to care and pay attention to those guys – especially if they deserve it, if they think about the team. If it's about me, me, me then after that, I don't care, I don't pay much attention.
"But every player who thinks about what's best for the team, being sad not to play but also thinking about the club, I'll be behind them."
Kompany: City trip about more than the result
The game marks Kompany's first competitive trip to the Etihad Stadium since his departure four years ago, and ahead of the tie he played down Burnley's chances of causing a shock on his return.
The Clarets have lost each of their last 10 games against his former club by an aggregate score of 34-1, but do travel to Manchester in scintillating form across their Championship campaign, and with a Premier League scalp – Bournemouth -already under their belts in the FA Cup.
Kompany believes Burnley's success on Saturday evening will be defined by more than just the result.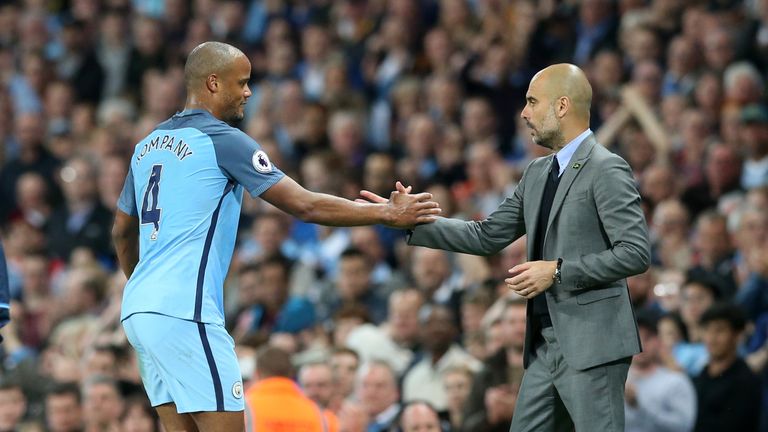 "They're trying to win the Champions League, we're trying to win the Championship," he said. "All things considered, we don't have to put too much pressure on ourselves, but still have the desire to get something from the game.
"Sometimes in these types of games, the result is one thing – and we all want to win – but many teams come to the Etihad and try to win. I shouldn't have, but I looked at the record of Championship teams going to the Etihad and it's not great.
"We've got to get something out of this game, hopefully a result, but there is so much more for us to get out of the game. The main focus is getting the best performance and then we'll see."
And the former City skipper's focus will remain entirely on getting the best out of his Burnley side, despite the potential for an emotional reunion with the home supporters.
"It's the first time (going back) so it's obviously going to be different, but in terms of my mindset it's not different," he said.
"It's just to do my job, be prepared. The core message for us is be prepared. I don't have a feeling I need to do anything other than give the one per cent extra to the team.
"I am extremely grateful for every moment I've been able to experience at Manchester City but I have to approach this game in the same way I approached every game at Manchester City, which is to do my job and live for that."